Main content
Nine tips for a greener Christmas
Are you trying to be more eco-friendly this Christmas? The UK government has declared a national climate emergency and the UN Secretary General António Guterres says the "point of no return is no longer over the horizon". So BBC Radio 4's Woman's Hour has been exploring how to have a more sustainable, greener festive season (one that's also kinder to your wallet). From clever ways to use up your leftovers to replacing your wrapping paper with scarves, here are some top tips from our Woman's Hour guests...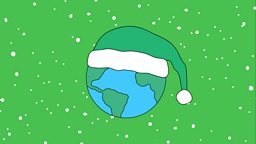 1. Pies, soups, stews: Get creative with leftovers to avoid food waste
Food waste can contribute to climate change when it rots in landfill and produces greenhouse gases. So Christmas is a good time to get creative with leftovers, according to Jenny Costa, founder and CEO of sustainable food brand Rubies in the Rubble. "Often you finish your Christmas dinner and no one is wanting to look at another bit of turkey or roast veg. You can easily blend them up and make a great winter soup and freeze it for another time."
Food writer and campaigner Jack Monroe suggests putting your Christmas leftovers into a pie. "You just get some ready-made shortcrust pastry and on Christmas morning, line a pie dish with it so it's ready to go. At the end of the day, scrape all the leftovers in to it, bung a load of gravy on the top of it and stick a lid on it. The next day you can all eat cold cuts of pie and it's really simple."
2. Bring in the holly and the ivy
"For decorations, let's go back to normal, let's go back to pre-plastic," says Kate Hughes, Personal Finance Editor at the Independent. "What everybody always used to do, because it was free and because it was abundant, was to bring in the holly and the ivy. There's a song about it! That's what we do at home, then it gets composted after the event. We don't spend a penny."
3. Get planning and only buy what you need
"Really plan what you need to do in advance. Think who is coming, what you want to serve them, write out a shopping list before you hit the manic shelves," suggests Jenny Costa. "Planning is so key to make sure you're not buying things in excess, that you're buying just what you need. People always think they need a lot more but you can do masses with different vegetables and getting creative."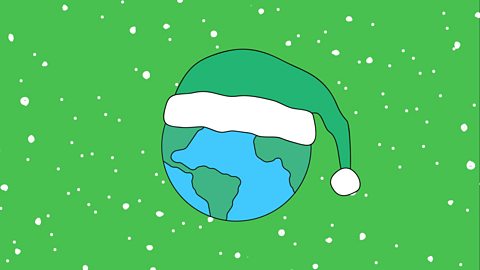 Trying to be more eco-friendly this Christmas? Here are a few ideas...
4. Put more plant-based dishes on your Christmas lunch table
Avoiding meat is a good way to reduce your environmental impact, according to environmental studies. Jack Monroe suggests trying to include more plant-based dishes on your Christmas dinner feasting table. "It can be anything from a really juicy nut roast or a really big, hefty stuffing. There's so many good options out there and available," she says.
5. Use fabric or pillowcases to wrap presents instead of paper
"Don't wrap your presents in disposable wrapping paper," suggests eco blogger and author of Eco-Thrifty, Zoe Morrison. "A lot of wrapping paper is covered in plastic and things like glitter are also made out of plastic, so it's mostly not recyclable. After the big day, much of it is going to end up in the bin.
"Instead, use more sustainable alternatives. There's this lovely Japanese tradition called 'furoshiki', where you can wrap gifts in fabric. You can just use what you have lying around and ask for it back afterwards. Even a pillowcase would make a good alternative wrapping paper."
6. Try to avoid packaging where possible
It's always good to try and buy as little packaging as possible to reduce plastic pollution, according to Nina Pullman, editor of the Wicked Leeks website. "That's something you can [do] throughout the year, but why not at Christmas? Vegetables in particular, they don't need packaging, so you could try and buy loose fruit and veg," she says.
Nina Pullman also suggests that you could choose a food box delivery for Christmas. "It's one box, it's as little packaging as possible. That tends to be more sustainable on the packaging front."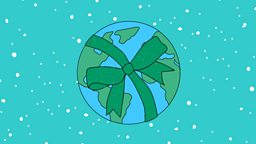 7. Give promises as presents
You could look at buying vouchers or even giving promises as presents, suggests Kate Hughes. "If you're struggling for cash this Christmas, you could promise to look after the kids, do a bit of babysitting for an evening, or take the dog for a walk, or come round and cook them a nice meal. It doesn't have to cost a lot of money, it doesn't have to be wrapped up, it's got no carbon footprint. It seems like a good solution to me."
8. Think outside the box about your Christmas tree
"There's a big debate about whether it's better to buy a reusable Christmas tree or a fresh Christmas tree," says Zoe Morrison. "It is better for the environment if you buy a fresh one because you have to reuse a Christmas tree for 10 years or more to make it as carbon effective as buying a real one. However, there is the option that you can get one second hand, which would make it more eco-friendly.
"There are lots of lovely things that you can do, like having Christmas tree-shaped wall hangings. I've even seen a bookshelf in the shape of a Christmas tree. You can put your presents on it and that's something you can reuse year after year."
9. Cut the crackers
"We buy Christmas crackers every year and they cost us comfortably a tenner, I think the very cheapest are £4," says Kate Hughes. "Ninety-nine per cent of the contents of those are in the bin by the end of Christmas Day. Why not not bother at all? Spend the extra tenner on really good quality Christmas gifts or part of your Christmas dinner. Or put it towards your pension! Don't blindly buy stuff simply because it's tradition or because you think it's expected."
You can catch up with every episode of Woman's Hour on BBC Sounds. You'll also find Woman's Hour on Twitter and Instagram.