Main content
BBC Music Introducing at Radio 1's Big Weekend 2020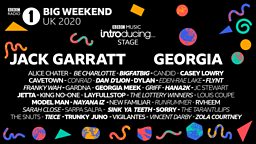 23 – 24 May 2020
Despite the lockdown Radio 1's Big Weekend goes ahead this year, but with a difference... For the first time, the event takes place completely remotely.
As ever there's a dedicated BBC Music Introducing 'stage' at the event. We're showcasing an artist from every single one of our local show areas. Plus we've got two special returning acts, Jack Garrett and Georgia, who have both been on the Introducing stage before.
The artists on our line-up all uploaded music to the BBC Music Introducing Uploader and were discovered by our network of local shows.
For this year's Big Weekend they've all recorded a performance of one of their tracks remotely. We're releasing these across the weekend on BBC Sounds - half on Saturday and half on Sunday. Plus we've got videos from some of the artists for you to enjoy!
LINE UP:
Alice Chater (Kent)
Be Charlotte (Scotland)
bigfatbig (North East)
Candid (Coventry & Warwickshire)
Casey Lowry (East Midlands)
Cavetown (Cambridge)
Conrad (Stoke)
Dan D'Lion (Berkshire)
Dylan (Suffolk)
Eden-Rae Lake (Humberside)
FLYNT (Cumbria)
Franky Wah (Sheffield)
Gardna (The West)
Georgia (London) [returning artist]
Georgia Meek (The South)
Griff (Beds, Herts & Bucks)
HANA2K (Wales)
Jack Garratt (Beds, Herts & Bucks) [returning artist]
JC Stewart (Northern Ireland)
Jetta (Merseyside)
King No-One (York & North Yorkshire)
Layfullstop (Manchester)
Lottery Winners (Lancashire)
Louis Coupe (Shropshire)
Model Man (Essex)
Nayana Iz (London) [Asian Network]
New Familiar [formerly Skinny Living] (West Yorkshire)
Runrummer (Hereford & Worcester)
RVHEEM (Merseyside)
Sarah Close (Solent)
Sarpa Salpa (Northampton)
Sink Ya Teeth (Norfolk)
Sorry (London)
The Tarantulips (The Channel Islands)
The Snuts (Scotland)
Tiece (Oxford)
Trunky Juno (Tees)
Vigilantes (Lincolnshire)
Vincent Darby (West Midlands)
Zola Courtney (Cornwall)
Enjoy the exclusive Big Weekend coverage!