Main content
Eden project: Rambert dancers take on Haydn's Creation
21 November 2016
In partnership with The Space, BBC Arts presents Rambert's new dance staging of Joseph Haydn's The Creation, recorded at Sadler's Wells Theatre in London.
About the piece
In Rambert's dance staging of Joseph Haydn's most famous and enduring masterpiece, The Creation, artistic director Mark Baldwin choreographs a cast of over 50 dancers from Rambert and the Rambert School, joined on stage by 70 musicians for a performance on a truly grand scale. It marks the 90th anniversary of Britain's oldest dance company.
The Creation's lyrical arias and monumental choruses depict the creation of the world as described in the Book of Genesis, and show off one of the greatest classical composers at the peak of his powers. Rambert's production marries dance to the music, with designs by internationally celebrated artist Pablo Bronstein reflecting the wit and majesty of Haydn's score.
The Creation was originally co-produced with Garsington Opera, with their orchestra and chorus led by artistic director Douglas Boyd. At this recording, commissioned by The Space, the Rambert Orchestra and BBC Singers were conducted by Paul Hoskins at Sadler's Wells Theatre.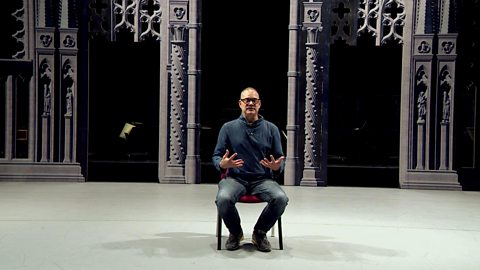 Choreographer Mark Baldwin discusses the piece which marks Rambert's 90th anniversary.
Credits
Music

Music: Franz Joseph Haydn
English text: Gottfried van Swieten, edited by Paul McCreesh
Soprano: Sarah Tyna
Tenor: James Gilchrist
Bass: Neal Davies
Chorus: BBC Singers
Orchestra: Rambert Orchestra
Conductor: Paul Hoskins
Dance

Choreographer: Mark Baldwin
Designer: Pablo Bronstein
Lighting Designer: Mark Henderson
Costumes Co-designer: Stevie Stewart