Main content
Remember Together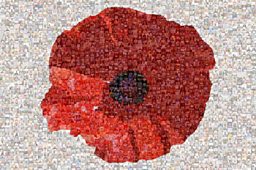 To mark this year's Armistice Day local BBC radio teams came together to create a giant poppy mosaic.
In a year where parades and remembrance events were different, due to coronavirus restrictions, we wanted to make sure those who have served our country are not forgotten.
Your pictures
We asked you to send in the name of a relative from years gone by, a friend who is currently serving or maybe someone inspired by a visit to your local war memorial where you live.
Hundreds of you got in touch, your photographs have been put together in a mosaic that will go on display at the REME Museum at MOD Lyneham in Wiltshire.
The piece will also be exhibited in Coventry as part of an exhibition in the build up to its year as UK City of Culture 2021 and 80 years to the month since more than 500 German bombers destroyed much of the city in the overnight air raid.