Main content
Proms Poetry Competition – previous winning entries
>Find out how to enter the latest BBC Proms Poetry competition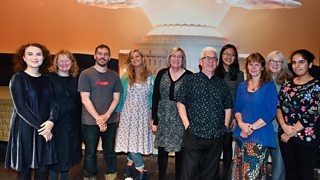 Proms Poetry Competition 2017: the judges, winners and reader Imogen Stubbs
The entrants in the 2017 Proms Poetry Competition were inspired by over 100 different pieces of music in the season, especially Holst's The Planets.
Other very popular choices were Mussorgsky's Pictures at an Exhibition, Monteverdi's Vespers, Sir Harrison Birtwistle's Deep Time, the Philip Glass and Ravi Shankar Prom, John Adams's Harmonium and the John Williams Prom.
Here are the winning poems, with examples of the music which brought such evocative words to mind...

Meredith Andrea, winner in the 19+ category
Inspired by Monteverdi's Vespers of 1610
Giving birth to Monteverdi
The conductor says 'when you finish you are more alive',
and I want to tell him Yes, I know, Raphael Pichon -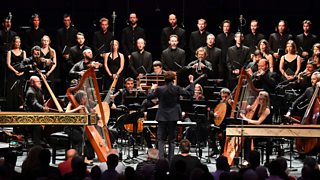 Lovely to be part of the Proms. Viva Monteverdi!
a whole life more - and how the Vespers of 1610
was the music-tape of labour in Coventry in 1990
and opened such a height in our narrow terraced house
I could see Earth from the Moon – our planet in its blue mantle
glittering with long tongues of welcome for our child – O Surge,
surge, amica mea! – unfurling in that stretch of distance.
Call it hormones, call it gas and air – the midwives knew
the score – but for me it was Monteverdi's music leading in stately,
intricate steps through wide fields of dew and meadow flowers,
for every stab of fear or cry of pain, acknowledgement, response.
Traces of cloud burnt off from the face of the world, leaving the City
a blaze of gold, its domes and steeples gleaming. The singing
from our little tape machine spilled from St Marks into all the streets
and squares of the known Universe. It breathed so steadfastly,
each voice centred, full of energy and trust, fluent and resourceful.
And listening to the Vespers from the Albert Hall, a Summer evening
in a quiet house four and a half centuries after Monteverdi's birth,
and my own children grown, it's here again, as clear –
this acoustic moonshot of Earth, Monteverdi grasping our whole journey,
its distances and closeness. Love; a child's first gasp of air,
and after it, how to keep on growing more alive.

Jane Lovell, runner-up in the 19+ category
Inspired by Rachmaninov's All Night Vigil
Beloved
Gypsum
I wash each curve, each crease.
Salt dries in strange scrawled symbols,
veins of gypsum.
With oil of palm and juniper,
I erase them, anoint your skin
with essence of valerian.
You speak of peace and other worlds.
Across the city, promises lie shifting.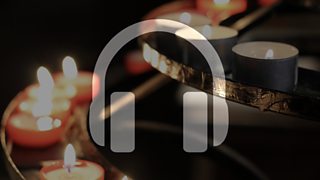 Flycatcher
There is kicking of dust, jeering.
I am led from the hill.
The air quivers.
Black-breasted larks rise from stone,
a flycatcher unravels its trailing song.
How do these birds tilt bright upon the wing,
insects dazzle, when such shadows break
the sun's path?
Acanthus
Bees unwind from banks of thyme.
Scents of mint and calamus tint the air a green
more delicate than dew.
There is no mistaking you.
Draw closer, let me smell the sweet acanthus
in your hair.

Isabel White, runner-up in the 19+ category
Inspired by Peter Maxwell Davies's Eight Songs for a Mad King
Valedictory for Max
I'll sing you eight songs…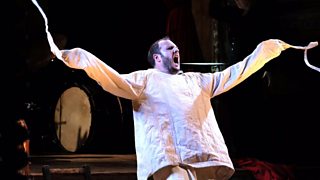 Sing to a madman from over the water,
Sentried selkie of Egilsay, Wyre
Sing ma wee scoot, not yet a mistress
Beltane maid to bana-mhorair
Sing of the shrike, of corncrake, kittiwake,
jing-bang kiss of Orcadian air
Sing of a cockstride from Sanday to Stronsay
through maddening murmuration of midges
Sing of the shroud of winter frets;
of simmer dim summer, asphodel, sedges
Sing of the foment of the sea,
the tidal flow over skerri and voe
Sing of a ruckus, Orkney Wintering,
Viking longships blown to Spain
Sing Merry Andrew, you reester rascal
we'll no hear your like again

Emily Hana, winner in the 12-18 category
Inspired by Holst's The Planets
The Planets in Love
i. It's his first time falling for a boy. His heart, scherzando, laughs him breathless.
Here, he can almost touch the sun.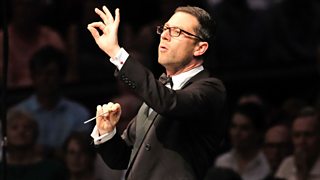 Winning was a huge, pleasant surprise: I was on holiday at the time so I got the call during a trip to Edinburgh Castle!
ii. flushed cheeks in spring rain and silver love songs exchanged on women's lips.
a whisper carried on rose petals and curly hair.
iii. Indecisive. Love blooms like fresh blood in secret corners of coffee shops and derelict
mansions. Gramophones play the usual, striking up an idea in a young composer's head.
He wishes to escape this planet and its fixation with the natural workings of the human heart.
iv. A tumultuous rollercoaster ride. A never-ending crescendo.
Did you know red has multiple connotations?
v. The jester juggles moons- one, two, three, one, two three- we take one look at each other
and cry with laughter at our wine-stained teeth.
vi. snow against your dark skin. i bequeath you this ring of ice. i do. i do. we are married, if
only for a moment.
(it will take lightyears for them to change their minds. we can't even grow old as friends.)
vii. Our love speaks in polar tones.
One day, a magician. The next, a man throwing glitter and feathers into the cold night sky.
viii. Scenes from old romance movies left out in the rain. Water carries this kind of love into
the drains of history. You can still hear the swelling strings and the choir's O-shaped mouths narrating the anticipation of a first kiss.
ix. you cut me off before i could even begin. i am still here. a composer's final thought.
then carried away like a lover's tears drying under a cold, distant sun.

Annie Fan, runner-up in the 12-18 category
Inspired by John Adams's Harmonium
On Wholeness
It takes longer than a human
life for plastic to decompose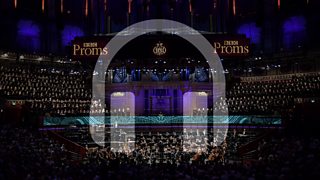 by opening itself within
the old bone structures of previous
mammals. Our bodies will gather
in smaller pieces, the places light
can't escape. How I once found
a monarch butterfly and watched it die;
stole its wings. I'm not a religious
person, but every time I pray,
the living things break into
my hands – taut insect densities,
their smoke a crown, like light,
my muscles of dust. I jackal, but –
o father. How many times have
I woken a stranger to myself?
A wrist cannot open without
violence; the body, severed from
brain, is a mannequin of blades;
volatile and skinless, discovered
in the forests of photochemical air –
another rot in this canine
hollow. The sky's animal mouth.

Cia Mangat, runner-up in the 12-18 category
Inspired by Rimsky-Korsakov's Scheherazade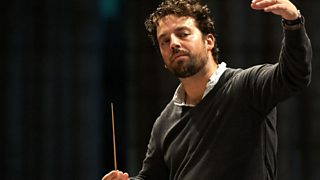 Scheherazade
Begin with the lilac frolics in the hem
and the pity-silver stranded in her silk
night-dress; her thick black hair, coarse
between her fingers, running
jungle-like, then serene; her eyes little ponds;
his pot-bellied fingers; her lips drying
out from spinning yarns with her
tongue over and over – she'll sit here
ere long – the rhythmic way her eyelashes
roll unto themselves as each tale reaches its
crescendo; her chillingly heavy perfume; mouth
with a waterlily at the back, a handful of strings
trembling so lightly, so gently when she sings! For him
the heart slowly fills with warm, briny water and the sand
she brings, golden, crystalline in her hands; thick
lashed eyes that wetly perfume his throughout the
night. At dawn, his fingertips wander home from
palaces of language. He plays the glory of
her jewelled fidgets. As he watches her,
he underlines each sentence with a cat's paw.