Main content
'I was lost, but now I've got something' - Chris Middleton's Road to the Games
By Ben Dirs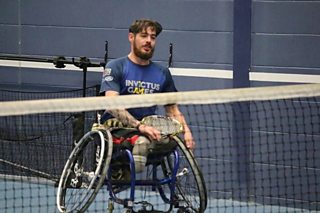 I was lost but now I've got something to look forward to all the time

Chris Middleton
Who knew that losing both your legs could be so much fun? Hiding in overhead lockers on planes, drinking out of his prosthetic limb, Chris Middleton manages to make it look like it was the best thing that ever happened to him.
At the second Invictus Games, which begins in Orlando, Florida on 8 May, Middleton will be confounding the fates again, ripping up that part of the tapestry that said his life should have ended in a bloody crater in Afghanistan.
It was while on routine patrol on 19 August 2011 that Middleton, a trooper with the Royal Scots Dragoon Guards, "won the lottery that nobody wants to win".
"I woke up that day knowing something was going to happen, I had a horrible, sickly feeling in my stomach," says Middleton, who was 20 at the time.
"But I was there to do a job, so I had to go out and do it. I was probably the 15th person to walk over the IED [improvised explosive device] but when I stepped on it, it ignited. The guys tell me I went up 10 or 15 metres.
"The rest is crystal clear. My boot was no longer attached to my foot. I was dragged out of the crater and I fell out with my mate because he wanted to give me morphine and I'm petrified of needles.
"I tried to self-tourniquet but bones were hanging out of my hands. The helicopter came and the surgeons at Camp Bastion stapled me up. I was back in Birmingham the next day. Seven days later, I woke up."
Middleton came round to the sight of his mum and sister crying at the end of his bed. But it was the look on the face of his dad, himself an ex-soldier, that confirmed that all was not well.
It didn't matter at the time that boys in beds beside him were a lot, lot worse. Middleton thought his life was over.
"I was a 20-year-old lad who'd been blown up and lost his legs. What's the point in living?"
No matter what injuries you've got, you can still get up and smash stuff, life is still worth living

Chris Middleton
But people can find remedies in the most unlikely of places. And beneath the ocean waves, among the coral and the fish, Middleton felt no pain.
"When they first asked me to go scuba-diving, I was like: 'Hang on a minute, I've just been blown up, I've lost both my legs and you want to take me out scuba-diving? Are you mad?! I was in a bad place, I wasn't really interested.
"But when I got in, everything changed. I was in the water with fully-abled, normal people, swimming along beside them. 'Hold on a moment, I'm doing what he's doing.' It changed my life. I was absolutely free again.
"My first dive was in Key Largo, Florida in March 2012. When I went in the pain stopped. My head stopped bothering me, the phantom pains in my feet, even though I had no feet, went away. When I got out, I was nearly in tears."
Middleton is now an ambassador for Deptherapy, the charity that gave his life meaning again. He is also a rescue diver, plans to work in Costa Rica this summer and would like to set up his own dive centre, to help other physically injured and mentally traumatised servicemen and women like him.
Middleton believes that had he not ignited that IED in Afghanistan and therefore returned home in one piece, he would now be living a life of quiet desperation rather than hobnobbing with sharks and turtles and dolphins.
"I would have left the army and drunk myself stupid. The transition from being a military person – being told what to do, being told how to do it, where to go, what to wear – to being a civilian guy would have been too much of a struggle.
"Without the help I got from having my injuries, I would have gone down the wrong path, an even worse path than I started to go down before I found diving and sport. I was lost but now I've got something to look forward to all the time.
"Before losing my legs, I'd think about things too much. But now I don't think at all. There's no reason why I can't do things other people can do. I'm not disabled, I'm injured.
"No matter what injuries you've got, you can still get up and smash stuff, life is still worth living."
Having smashed plenty of stuff at last year's Warrior Games in Quantico, Virginia, Middleton will be smashing plenty more stuff in Orlando.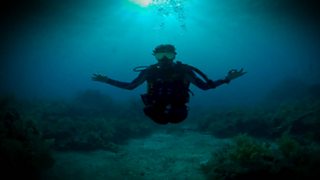 It's about seeing people who have come through a life-changing situation putting their country's colours on and getting out there

Chris Middleton
The Invictus Games was the brainchild of Prince Harry and the inaugural event was held in London in 2014, with about 300 wounded, injured and sick servicemen and women from 13 countries participating. This year, Great Britain is sending a 100-strong team, chosen from 228 trialists.
Middleton will be competing in the wheelchair 100m, 200m, 400m and 1500m on the track; the freestyle, backstroke and breaststroke in the pool; indoor rowing; wheelchair tennis, basketball and rugby. It's a story that Disney would have been proud of producing, but there'll be no time for Disney World.
"I want to win, I'm only human. And obviously I want to smash the Americans. The Americans are getting beat. But it's not about winning medals. It's about seeing people who have come through a life-changing situation putting their country's colours on and getting out there. Seeing someone running the 100m with two prosthetic legs two months after their injury, that's a nice feeling."
In his home town of Leicester, people still approach Middleton and tell him he lost his legs for no reason. Others come close and stare at his prosthetics, before wandering off without saying a word. Middleton realises he's a bit different but he wishes they'd just come out with it. "Do you mind if I ask what happened?"
Middleton would tell them about that routine patrol in Afghanistan, how his life changed in a split second. How having his legs blown off opened up a world of opportunities. And how a feckless kid became someone his parents was proud of.
"You could wake up tomorrow and something could happen to change all your plans. One day I had legs, the next I was legless. But plans are there to be broken. You're not dead until you're dead."
* Invictus: The Road to the Games with be broadcast on BBC One on Monday, 02 May at 19:00 BST.