Main content
500 Words 2019 language insights
'Brexit' is the Children's Word of the Year for 2019
This year's 500 Words received over 110 000 entries from children in more than 20,000 UK schools. 'Brexit' is the Children's Word of the Year with a 464% increase in usage compared to 2018. Previous words of the year have been plastic (2018), Trump (2017) and refugee (2016) reflecting the influence of global affairs on children's creativity.
The wider political world and reacting to issues such as climate change, pollution, health and social justice also play significant roles in many stories. Gaming, technology, and smart devices appear in a lot of stories too, demonstrating their increasing presence in children's lives.
See the infographics below to find out more about the stories from this year's 500 Words.
For more facts, infographics and analysis visit the Oxford University Press website, where the full Oxford Children's Corpus Summary Report is available to download.
Brexit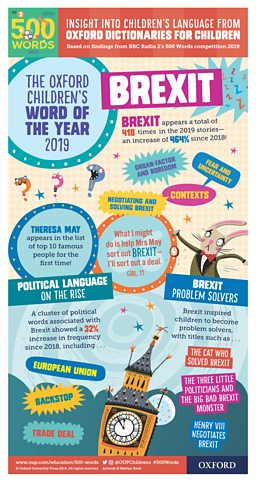 Environmental Activism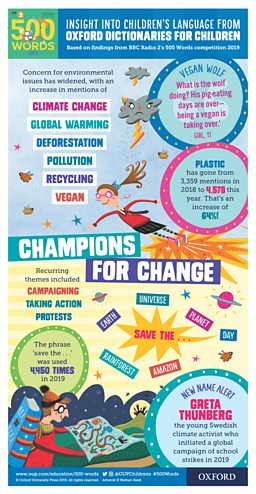 Gaming and Technology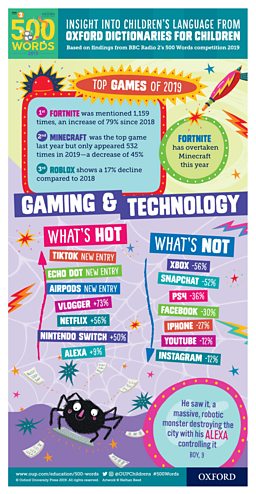 Heroes and Villains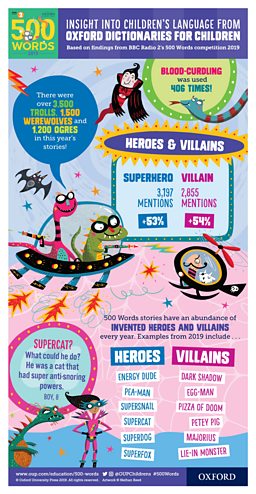 Wordplay