Main content
An extra-sensory journey around the Royal Academy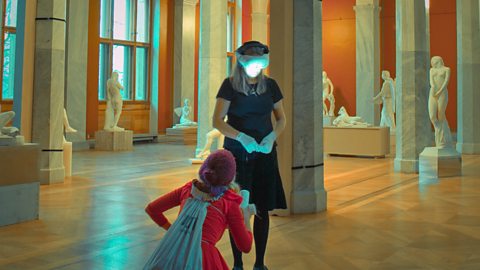 Artists Lundahl & Seitl give you a taste of their extra-sensory Royal Academy tour.
It is recommended that you wear headphones while watching this film to enjoy the full audio experience
Swedish artists Christer Lundahl and Martina Seitl are offering visitors to the Royal Academy of Arts the chance to take a journey with a sensory twist.
In London for the first time, the pair's Symphony of a Missing Room: Archive of the forgotten and remembered takes visitors around the gallery wearing headphones and sightless goggles. Playful unseen guides lead them around the space, while a voice coaxes you in a certain direction.
Small groups of people taken on this tour experience the duality of sensory deprivation coupled with extra-sensory stimulation through movement, touch and 3D stereo sound coming through their earphones. They are steered away from the tangible world and diverted into a new sense of time, space and self, which forms the essence of the artists' work.
Lundahl & Seitl's work responds to the centuries of history at the Royal Academy's London home, and the notion of hundreds of works submitted to the 2014 Summer Exhibition and not yet hung in place. This is a work they first unveiled in Stockholm five years ago and has been evolving ever since in venues around the world.
Lyn Gardner reviewed Symphony of a Missing Room for The Guardian, and said her experience at the Birmingham Museum and Art Gallery was "like falling into your own personal fairytale or going through the wardrobe into Narnia."
"You are seduced by the gentle voice in your ear, and by the hands that flutter around you like birds. Yet never for a moment do you feel out of control - it is, after all, your own imagination that gives this work its wild power."
The film is a representation of the Symphony of a Missing Room tour at the Royal Academy which takes one hour to complete.
This is not a documentation of the work, but an interpretation of it for BBC Arts Online.
Presented by LIFT and the Royal Academy of Arts, Lundahl & Seitl's Symphony of a Missing Room continues at the Royal Academy with six tours a day until 8 June.