Main content
Emilia Clarke gives us the lowdown on her worst audition
"The more I say this, the sketchier it sounds..."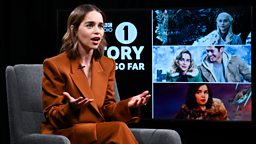 Emilia Clarke sat down with Ali Plumb for her 'Story So Far', looking back on the highs of her incredible career, from Game of Thrones to latest film Last Christmas.
The latter is a festive romcom directed by Paul Feig and soundtracked by music inspired by George Michael and Wham!.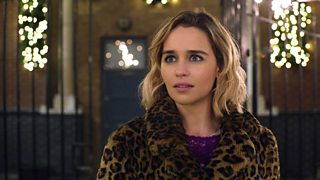 Emilia Clarke in Last Christmas
Clarke's character, Kate, goes for a number of auditions, and it's something Clarke could relate to in what she called her "dark days pre-Game of Thrones, fresh out of drama school and doing six jobs that [had] nothing to do with acting."
When Ali asked for her worst audition anecdote, she had quite the story lined up, but we wouldn't have guessed it was one involving a tiny man growing out of someone's belly button...
Clarke said: "The more I say this... the sketchier it sounds... but I went for an audition for an advert. They were saying: 'We just need you to react to what we are saying'."
"They were like: 'You've just come out of the shower, and there's a guy there, and you start to see there's something coming out of his belly button... And it's a weird little man, and the little man starts dancing to some crazy music, and you can't help but want to dance with him... So, we need you to dance'."
And obviously she did, but did she hear back? "Clearly I never got the part and I never saw the audition."
Although shortly after, this small show called Game of Thrones came along and she was rightfully crowned the Queen of the Dragons.
And for all you GoT-heads, if you've wondered which language was harder to master – Serbo-Croat or Dothraki – you'll have to watch the full interview with Ali below to find out.
Ali Plumb reviews all the biggest releases and goes behind the scenes with Hollywood stars.