Main content
The Rest Test
The Rest Test is an online survey of attitudes towards rest and people's habits and hopes to be the world's largest ever survey on the subject. We vary a lot in what we consider restful and how much time we spend doing it, and the survey will increase our understanding of this and how rest affects our daily habits. The Rest Test is a collaboration between academics at Hubbub at the Wellcome Collection and BBC Radio 4.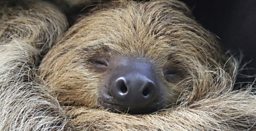 Sloths are well known for snoozing - but how much rest do you get?
More about the Rest Test
The questionnaire is split into two parts. The first part takes 5-10 minutes. There are questions about a person's attitudes towards and opinions of rest, as well as questions on demographic information.
The second part of the questionnaire takes 30-40 minutes. There are more in-depth questions about rest and mind-wandering and people can also take part in a short experiment where they will be asked to recount their thoughts.
You will get immediate feedback on your experiences of rest compared with everyone else who has taken the Rest Test so far. The full results will then be analysed and announced on All in the Mind on BBC Radio 4 in 2016.
The Rest Test was designed by Hubbub, an international and interdisciplinary team of social scientists, psychologists, neuroscientists, artists and humanities researchers who are in residence at Wellcome Collection in London, exploring the topic of rest, led by Felicity Callard of Durham University.
See a gallery of sloths, to inspire you to take more rest.