Main content
Keep Wolfblood secrets safe with the BBC micro:bit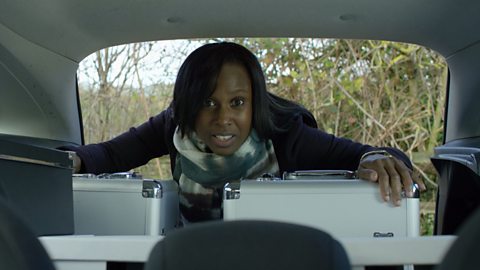 Imara challenges her Wolfblood pack - and you - to keep Segolia secrets safe.
Wolfblood micro:bit projects
With both Humans and Wolfbloods working together, what's the best way to identify friend from foe? Help TJ and Matei invent a hi-tech way to communicate.

Selina and Katrina have a whole lot of Segolia documents to stash away, but where can they keep them?
What are Wolfbloods?

Part-human, part-wolf, with extraordinary speed and senses, Wolfbloods have always lived always among us and, past a certain age, are able to transform into wolves at will. They once lived openly but over time this changed as humans started to hunt them down.
Wild Wolfblood Jana joined modern city life to work for Segolia, a global corporation tasked with keeping the secret safe. Here she forms a new pack but the ruthlessness of her employers prompts a schism and friendships are tested to breaking point. Jana, TJ, Selina, Matei and his sister Emilia negotiate the battle between their wolf and human sides, forced to make decisions that will change the world forever.
Now, with humans taking a greater interest than ever in Wolfbloods, Jana and her pack are alerted to an astonishing threat, fearing that the government could be involved in a conspiracy to wipe out their species. Could this be the end for Wolfbloods?