Main content
Buttered Freekeh with Chickpeas, Green Olives, Currants & Pistachios
Freekeh is a brilliantly versatile grain with a rich, slightly smoky flavour that comes from roasting over an open fire. This is a great dish by itself, as part of a sharing meze-style meal, or as an accompaniment to roasted meats or fish. We sometimes serve it with fried prawns and a wedge of lemon.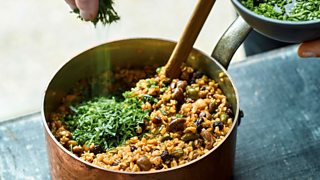 SERVES 2 – 4
125g (4.oz) unsalted butter
50ml (2fl oz) extra-virgin olive oil
3 banana shallots, diced
3 garlic cloves, finely grated
250g (9oz) freekeh, rinsed under cold water
125g (4.oz) currants
200g (7oz) good-quality green olives, pitted and roughly chopped
700ml (1. pints) water
400g (14oz) tinned chickpeas, drained and rinsed
150g (5.oz) pistachios, shelled, toasted and coarsely ground
small bunch of flat leaf parsley, chopped
small bunch of mint, leaves only, shredded
small bunch of chives, chopped
flaky sea salt and freshly ground black pepper
Heat the butter and olive oil in a medium pan over a medium heat. Add the shallots and cook gently for about 10 minutes,or until browned. Add the garlic and continue to cook for 2–3 minutes. Now add the freekeh, currants and olives and season with salt and pepper. Pour in the water, reduce the heat to low and cover with a lid. Cook for about 30 minutes, stirring occasionally. Add a little extra water if it seems a bit dry. The freekeh should be just tender, but still with a little bite to it. Finally, add the chickpeas, pistachios and herbs, check the seasoning and serve.
'Oklava: Recipes from a Turkish-Cypriot Kitchen' published by Mitchell Beazley.
More Food on the BBC
Browse our selection of recipes from top chefs, cooks and food writers who have joined us on Woman's Hour...

Download this interview, or subscribe to the Cook the Perfect...downloads