Main content
Flushable Wipes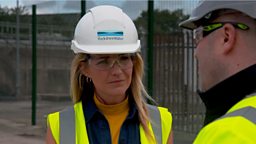 Helen Skelton investigates why just because a wipe is labelled "flushable", it might not be OK to put it down the loo…
Wet wipes are the cause of an estimated 90% of sewer blockages. And while many of those will be flushed away despite being labelled "do not flush"- some of them may be labelled "flushable".
There is no legal requirement a product must meet to be labelled "fluhsable"- though there is an existing standard- GD4- established by industry body Edana, which most of the "flushable" wipes on the market have passed.
But the UK water industry felt this standard was not stringent enough to ensure that wipes would disintegrate in UK sewers- so this year Water UK introduced the new "Fine To Flush" standard.
The Marine Conservation Society and Water UK say only wipes that have been tested against the Fine To Flush standard are truly flushable in this country.
Watchdog spoke to retailers and leading wet wipe manufacturers- all of them said their flushable wipes are either biodegradable or plastic-free, meet all international standards, and the ones that aren't flushable are clearly labelled.
So far only two brands of wipes have passed the standard. But companies including Tesco, Aldi, Lidl and the company behind Kandoo wipes told Watchdog they were exploring how to meet the Fine To Flush standard. Superdrug said it did not have plans to test against the Fine To Flush standard, because it concerns the Edana standard a more robust and reliable criteria.
Wet wipes industry body EDANA said:
EDANA reasserts that the flush standard "GD4" is fit for purpose. Its proven effectiveness has seen it endorsed or adopted by the relevant authorities is Spain, Belgium, Germany and Australia. In Water UK's own 2017 analysis of over 50 sewer blockages, less than 1% of wipes examined were identified as flushable wipes.
An estimated 85% of wipes on the UK market are unflushable and the key to mitigating their impact lies in stopping the problem at source. Increased awareness leading to the reduction of the improper disposal of these non-flushable wipes, fats, oils and grease and will have the largest impact in reducing sewer blockages and marine litter.
EDANA is committed to demonstrable action in promoting such consumer awareness, a common objective we share and have discussed repeatedly with the Marine Conservation Society, Defra and Water UK. We want to work with them to reach this goal and this debate on standards should not be a hurdle to that.