Main content
Five stand out food experiences from Remarkable Places to Eat
Fred Sirieix has worked in the restaurant trade for more than 30 years, but even he struggles to find amazing places to eat when he travels, so he asked some of Britain's best chefs and restaurateurs to open up their little black books and share the places that they know really deliver something special.

Angela Hartnett, Tom Kerridge, Michel Roux Jr and Nisha Katona each took Fred to a city that they believe is home to some really unmissable food experiences, from high end luxury to brilliant cheap eats.
Venetian Classics at Osteria Alle Testiere, Italy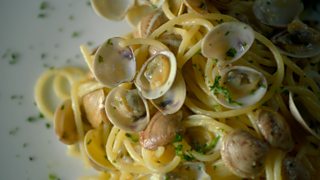 Angela Hartnett's all time favourite restaurant in Venice is proof that small is beautiful. The Osteria Alle Testiere seats just 22 diners in a restaurant only 35 square meters. Co-owner and chef, Bruno Gavagnin works alone in the kitchen, while his business partner Luca de Vita takes sole charge front of house. With such a small team Alle Testiere thrives by keeping things simple - offering fresh and light Venetian dishes that showcase fish and seafood caught no more than two hours by boat away from the restaurant in the Venetian lagoon.

To ensure that they get the freshest and the best ingredients, Chef Bruno goes to Venice's historic Rialto fish market every morning to select the produce himself. Inspired by what's on offer, he devises a new menu every day – experimenting in his kitchen to work out which flavour combinations will most enhance the flavours of that day's catch. Everything is cooked to order, so none of Bruno's dishes takes more than five minutes on the single stove in the kitchen. Angela knows that this style of cooking is a mark of real skill, and she explains "the way you can tell who's a really great chef or a cook, is the fact that they've got absolute faith in their simplicity".
Steak at Casa Julian, Spain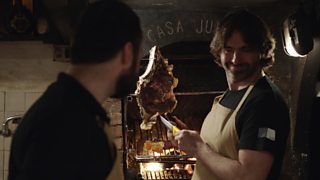 San Sebastian in Northern Spain is one of restaurateur Nisha Katona's favourite food destinations. The City boasts 16 Michelin stars and two restaurants ranked in the world's top 50, but the place where the city's top chefs go to eat on their nights off is a family run restaurant that specialises in just one dish – steak. Casa Julian has been serving the classic Basque 'chuleton' steak since 1958. The 'chuleton' is a large rib steak that is traditionally cut thick and cooked on the bone.

Owner Matias Gorrochategui and his sons Inaki and Xabi source their meat from old dairy cows, who after a life of providing milk, are fattened to create a steak rich in marbling and intense in flavour. Steaks weighing between 1 and 1.5 kilograms are slow cooked on the charcoal grill which takes pride of place in the centre of the restaurant. Just as the menu only offers one steak, diners aren't offered the chance to choose how they want their steak cooked – all steaks here are served rare, slow cooked for 10 minutes on each side so that all the fat inside renders creating intense flavours and melt-in-the-mouth tenderness.
Seafood Platters at La Coupole, France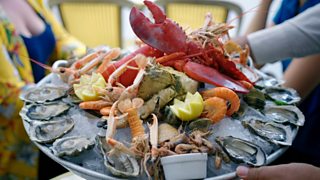 In the hierarchy of French eateries, the Michelin starred restaurants are at the top, on the bottom rung are the café or bistros, and right in the middle are the brasseries. Typically Brasseries are open all day, every day of the week and offer very large selection of dishes. For Michel Roux Jr the best of Paris's brasseries is La Coupole in Montparnasse, a gorgeous, gilded art deco dining room that in the 1920s was the regular haunt of artists Pablo Picasso and Henri Matisse.

Here you can eat a vast range of dishes, from French classics like steak frites to a lamb curry that has been on the menu since 1927, but here the house speciality is sea food. More than half the menu is devoted to oysters, shellfish, crabs and lobsters. Each of the six sizes of platter served at la Coupole, from the tasting platter at 29 euros person to the Royal at 89 euros a person, is prepared at the spectacular seafood bar at the front of the restaurant. Here the seafood is displayed to catch customers' eyes and is kept chilled by more than half a tonne of crushed ice each day.
Tortilla at Nestor's Bar, Spain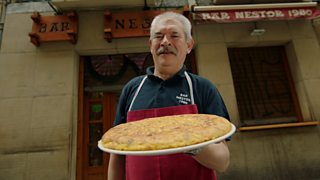 You don't have to eat at high end restaurants to find amazing food in San Sebastian. This Basque city is the birthplace of 'pintxos', bite sized portions of something delicious designed to go with a drink. Every traditional bar in San Sebastian serves them, and each has its own speciality. Among them is Nestor's Sports Bar, a place that Nisha Katona believes serves the best tortilla in the world.

Here you don't have to book a table, but you do have to book a slice of omelette if you're going to stand any chance of getting to taste it. The bar opens at 12.45pm each day, but to pre order your tortilla you must arrive in person around midday and ask Nestor to put your name down on his list. He makes just two tortillas each day, one for lunch customers and one for the evening, each serving just 16 slices.

His cooking method is just as unusual as his booking system – he cooks sliced potatoes, onions and a single sliced green pepper in sunflower oil, before adding the hot veg to his beaten eggs. These then go back into a hot pan to be cooked for around a minute before being flipped over for another minute of cooking. The result is a stunning tortilla with a softly runny centre, served with crusty local bread, yours for just two euros a slice.
Fish and Chips at The Fishmarket, Scotland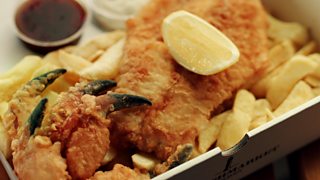 Tom Kerridge was the first chef to win two Michelin stars for cooking in a pub, and he loves simple classics done brilliantly every bit as much as enjoys fine dining. The last stop of his food tour of Edinburgh was The Fishmarket in Newhaven. Here Edinburgh's most famous seafood chef has teamed up with the City's best fish supplier to create the best fish and chips in Scotland.

On the site of the old fish market, this up market chippy sets out to make every portion perfect – from testing the density of every batch of batter to measuring the sugar content of each new sack of potatoes so that they can be given precisely the right amount of time in the fryer. While the freshness of the fish is guaranteed because the locally caught fish is landed in the harbour in front of the restaurant and filleted by a dedicated team on site. The result is pearly, flaky succulent haddock in the crispiest of batter coatings, served with proper, crunchy double cooked chips.