Main content
Why a fan photo made Niall Horan so angry
One Direction have millions of fans across the world, so they're never far from one with a camera, even when they're asleep on a plane.
A poorly Niall told a fan he was sat next to on a flight that he wouldn't let her take a selfie with him, so the fan waited until he was asleep to take a photo.
Understandably, Niall wasn't happy and shared the photo on Twitter.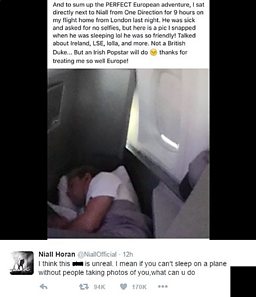 Fans responded in their thousands to speak out about invasion of privacy and support Niall in his time of need.
One fan, however, shared the most perfect response possible.