Main content
Sunshine Garden Competition
BBC North West Tonight is running an exciting garden competition.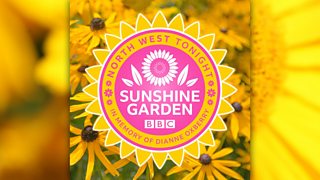 We are having a special garden at this years RHS flower show at Tatton Park. It is going to be called the North West Tonight Sunshine Garden and is in memory of our friend and colleague Dianne Oxberry, who died earlier this year from Ovarian cancer.
When the flower show has finished we want our garden to live on forever and so we would like to give the garden to a charity in the region that helps people whose lives are affected by cancer.
How to enter
You can nominate a charity to win the Sunshine Garden by emailing: nwtgarden@bbc.co.uk
Let us know who you are and the details of the charity or organisation you wish to nominate.
Click here for full entry details, Privacy Notice and Terms and Conditions
The competition closes at 19:00 on Friday 31 May 2019.