Main content
BBC Scotland's Poet In Residence Opportunity
Description of the Residency:
Applications are invited for the post of BBC Scotland's Poet in Residence: a unique opportunity for an early career poet, based in Scotland, to undertake a four month residency at BBC Scotland, working with BBC teams to bring poetry to audiences across Scotland.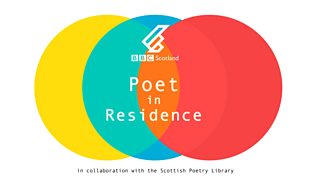 In seeking an 'early career poet', we are looking for someone of any age who demonstrates significant potential, evidence of professional achievement, a rigorous approach to creating artistic work and a readiness to develop their practice.
This project is in collaboration with the Scottish Poetry Library and will launch in September 2017, to coincide with National Poetry Day, culminating on Burns Night in January 2018. During the residency period the successful poet will have access to expertise and support from BBC Scotland and the Scottish Poetry Library and be expected to contribute a minimum of 15 poems /contributions for multi-platform use across radio, television, online and social media.
The successful poet will principally be working with BBC Radio Scotland's topical arts strand, The Janice Forsyth Show, and will liaise with the BBC Scotland Project Lead on their on-going creative brief and delivery. The successful poet will also work with BBC Scotland learning teams to bring poetry to children and young people in up to 3 dedicated workshops and events for schools.
A remuneration of £4000 (gross) will be paid to the successful poet.
Applications will be judged on the following criteria:
1. Creativity and Imagination: we are looking for applicants who really engage with the opportunity of being Poet in Residence, and think imaginatively around the opportunities and challenges of presenting poetry in spoken form to BBC audiences across Scotland and to young people in schools. We are looking for proposals which have energy and vitality, whose ambition is to bring poetry alive on air and online. We are looking for applicants who are flexible and can respond to a changing broadcast environment.
2. Performance: We are looking for poets who engage with audiences and would enjoy the opportunity to perform their works for BBC Scotland audiences.
3. Potential: we will be looking at what you, the poet, would gain from the residency in terms of professional and artistic development.
4. Experience: We will also assess applications on the basis of the applicants' existing work and professional experience.
The Application Process:
Applicants are asked to submit examples of no more than 6 poems, links to video / audio performance footage if available, a CV and a statement of no more than 800 words outlining your approach to this residency, and what you would like to achieve as BBC Scotland's Poet in Residence.
Applications should be sent via email to poetinresidencescotland@bbc.co.uk. The deadline for applications is 5pm on Friday 30th of June.
Shortlisted candidates will be invited to take part in an interview at BBC Scotland, Pacific Quay Glasgow on Thursday 13th July. The successful candidate will then be notified.
Any informal queries about this opportunity can be addressed to:
Esme Kennedy, Senior Producer, BBC Radio Scotland
esme.kennedy@bbc.co.uk
About the Partners:
BBC Scotland:
Scottish Poetry Library:
Terms and Conditions:
1. Applicants must work in Scotland and have their principal home in Scotland.
2. The applicant cannot be employed currently by the BBC or have close family or partners who are employed by the BBC.
3. Applicants must be available to undertake the residency from Mon 25 September 2017 until Thursday 25 January 2018 and be able to participate in up to 3 learning workshops (one of which may be scheduled in advance of the start date). They must also deliver a minimum of 15 poems / contributions in this period. We anticipate that the poet will work flexibly on a part time basis to accommodate broadcast requirements.
4. It is possible that this post may be considered Regulated Work with Vulnerable Children and/or Protected Adults, under the Protection of Vulnerable Groups (Scotland) Act 2007 and as a result all candidates may be required to have valid PVG Scheme membership in place.
5. Applicants should advise the BBC of any existing criminal convictions. Please note that this would not necessarily preclude entry but would be at the discretion of the BBC and the Scottish Poetry library.
6. Applicants must be aged 18 years or over. The scheme is not open to applicants in full time education.
7. The scheme is open to applications from poets working as individuals only, not to partnerships or groups.
8. Only one application may be submitted per person. In the event of multiple entries the first received entry will be considered and the subsequent entries disqualified.
9. The BBC will only ever use personal details for the purposes of administering the scheme. Please see the BBC's privacy policy: http://www.bbc.co.uk/privacy
10. The deadline for applications is 5pm on Friday June 30th . Entries received after that date and time will not be considered.
11. The BBC cannot accept any responsibility for any problem which may result in any entry being lost or delayed.
12. Applications will not be returned - please ensure you keep a copy of your application. Unsuccessful applicants will not be contacted and no feedback on any entry will be provided unless shortlisted to the final interview stage.
13. By submitting your application to the BBC you confirm that:
13.1 Your application is your own original work, does not incorporate any third-party material and that you have the right to make it available to the BBC for all the purposes specified above;
13.2 Your application is not defamatory and does not infringe any law or rights of any third party.
14. The description of the scheme and selection process is not binding on the BBC and may be varied. The BBC reserves the right to cancel or amend the residency and/or scheme at any time if deemed necessary.
15. By entering, applicants will be deemed to have agreed to be bound by these rules and the BBC reserves the right to exclude any entry from the competition at any time and in its absolute discretion if the BBC has reason to believe that an applicant has breached these rules.
16. If a shortlisted applicant is unable to be contacted after reasonable attempts have been made the BBC reserves the right to disqualify that entry.
17. For the avoidance of doubt, the successful applicant shall own any copyright in work created under the 'Poet in Residence' project. The BBC will have the fully paid up perpetual right to use any such work in whole or in part in all media throughout the world including (i) exhibiting the works on its premises or in connection with events; (ii) including the works in Radio/TV broadcasts and, (iii) use the works online, and on all of the BBC's Public Services, including social media platforms. This right shall be exclusive for the duration of the residency and non-exclusive thereafter. After completion of the residency, should the successful applicant decide to publish the works created during the residency, they will agree with the BBC an appropriate credit for the BBC on such future publication.
18. The BBC will prepare publicity material for the 'Poet in Residence' project. In order to support this, you will be required to provide the BBC with a short biography and CV, together with up to 5 excerpts of your work and hereby grant to the BBC a non-exclusive, in perpetuity irrevocable, pre-cleared, royalty-free and unfettered right to use, sub-license or otherwise authorise the use of the resulting publicity material.
19. You may be filmed during your work on the residency. In such circumstances, you will agree to execute a contributor release form.
20. The work produced during the residency must be suitable for broadcast to the public and publication on the bbc.co.uk website and suitable for a general audience (the BBC reserves the sole right to deem the content editorially appropriate for use).
21. Content cannot be deemed to be political campaigning; must be sensitive to racial and religious sensitivities; must not contain violence or pornographic material or inappropriate language.
Further information on BBC Policy can be found via the following link:
http://www.bbc.co.uk/editorialguidelines