Main content
BBC Fresh Profile: Tyrell Jeremiah
Filmmaker Tyrell Jeremiah explains why he is interested in how style and fashion can help define us.
Tyrell made a film as part of a project examining at his local neighbourhood in London.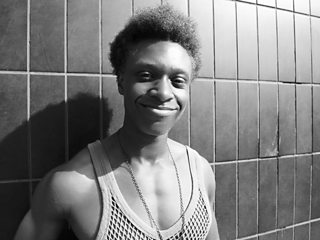 Why did you pick this subject for Fresh?
I wanted to unravel stereotypes to do with dress and appearance. I conducted interviews with my friends and locals to explore these ideas. My film asks three questions. Does the clothing we wear affect the way people judge us? Does the way we dress give us a sense of belonging? Do we wear certain clothing to adapt to our surroundings?
What motivated you to make this film?
I have lived in Hackney all my life and I have seen a lot of changes that are positive as well as negative. When I've met people that don't live in Hackney, I get a sense from them that they've got a negative vibe, but being born and bred in Hackney I know it's not all bad, so I wanted to challenge that.
I personally have felt judged a lot by the clothes I wear, whether it's a hoodie and tracksuit, or more trendy clothes like skinny jeans and smart tops, so I wanted to find out if other young people had these kinds of experiences too.
What camera did you use to shoot your film?
I used a Sony NX30E.
Who/what inspires you?
I've been working with Immediate Theatre in Hackney for four years, participating in drama workshops and playing different roles, and I've really enjoyed bringing drama into reality. I am an aspiring actor and a mentor at my school. So I guess I'm inspired by my theatre group, who have really supported me to express myself, but I also get a lot of satisfaction passing this support on to other young people.
What are your plans for the future?
I've began a follow up project about the so called "hipsters" moving into my area, asking them what they think about the changes in Hackney and about their fashion and dress choices, so I'm working on that at the moment. I think there are just as many stereotypes about them as there are about me, so I want to get behind those assumptions.
What is the most important thing you have learned so far?
On this film the main thing I learned was that change is forever occurring, it is just part of life, and that goes for new fashions and styles too. I also learned that everybody judges other people in some way or other, so it's important to think more carefully about our own stereotypes and prejudices.
This film was created as part of the Creating Hackney as Home project. For further information on this project, see the links below.