Main content
Creating a scene: how to get started with landscapes
As thoughts turn to Christmas presents for loved ones, why not think about making the gift personal by painting a picture. But you don't have to be an accomplished artist to avoid disappointment when the wrapping comes off.
If you're not that comfortable with a brush the easiest to attempt are landscape and abstract paintings. In the first of two articles, ISABEL H LANGTRY, Principal at Hampstead School of Art, gives you helpful hints on portraying a view, from the palette to the canvas; highlighting the artists to give you inspiration and where to start to make your gift a cracker.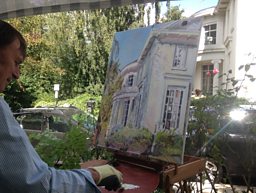 Vincent Milne painting 'en plein air', Kidderpore Hall, London
Until the 17th century landscape painting was only really used to decorate the background of portraits, and religious, mythological or historical paintings.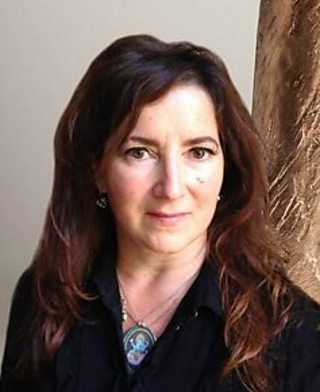 Isabel H Langtry, Artist and Principal, Hampstead School of Art
But today if we paint a landscape we can choose our own vision of the earth. The first thing to decide when planning this type of painting as a gift is which landscape you're going to depict.

Think of the person it's for and find out about their favourite landscape, or better somewhere that means something to you or your relationship with the intended recipient? Is it the hills or plains of your childhood days, or the beach where you had a great time?
Of course, if it's a far flung vista you don't have to actually go there. If you're not painting from sight or memory then most images can be sourced on the internet, although arguably that's not as much fun.
More from Hampstead School of Art
Looking for more inspiration? Read practical tips and words of wisdom from visual artists like Lachlan Goudie of BBC One's The Big Painting Challenge.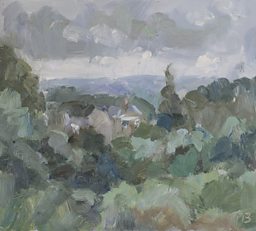 Tim Benson's 'The Vale of Health', oil on canvas
If you want to be expressive, then aim for more than capturing a likeness of the scene. You can create a whole world on a piece of flat canvas or paper, it's amazing. You can also create an impression or use your memory about the place you love. Artistic license gives you the permission you need to bring a tree closer, or exaggerate a blue, or mix two countries landscape characteristics together.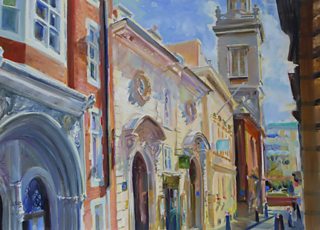 College Hill, oil on canvas, 66 x 91cms by Vincent Milne.
If you want to paint realistically, replicating nature as closely as possible, try painting "en plein air", or outside. The paintings of Vincent Milne are all about painting directly from what he sees outside, in the photo you can see Vincent with his portable easel painting in north London.
Your painting could also be about a seascape, sky and clouds, or a city. Create an impression of vastness on a small scale like painter Tim Benson, whose work does just this, dramatically, dynamic.
How to paint 'en plein air'
If you would like to paint like Vincent Milne follow these tips
1. Prepare your equipment, portable easel and paints, or simply rest a sketchbook on your knee.
2. Focus on what you see
3. Use the horizon as your center point so that you can plan the composition
4. Start by putting the main shapes in directly with your brush
5. Work quickly as the light will change
6. Finish at home using sketches you have made to remind you of the things you loved
Xiaolan Gu Through the trees Hampstead Heath. Chinese ink & brush painting
Or paint like Xiaolan Gu who uses Chinese brush painting to create her work, she is brilliant at capturing the spirit of nature.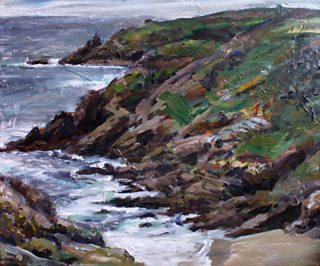 Seascape by Edward Ofosu
And you do not even have to use paint! Artist Edward Ofosu uses his iPad, it's unbelievable work, Edward is so good with it that many people think they are looking at wet painted artwork.
Select your cracker, frame it and wrap it, and then stand back, you have just lit a touch paper that could change your life, or somebody else's. A perfect present.
Next year, join an event like 'Picture the Heath', an annual festival that invites everyone, of any age, and ability to walk Hampstead Heath or the surrounding area and spend the day drawing or making a painting 'en plein air' and then exhibit your work at the highest geographical point of London, Whitestone Pond, in the beautiful 'Picture the Heath' marquee.