Main content
Newsletter – emails made for you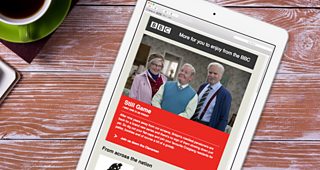 If you'd like to discover more to enjoy from across the BBC including great TV, radio and online features from BBC Scotland, then sign up to receive regular updates.

We can now offer a personalised email newsletter service, suggesting more of the type of programmes that you're interested in. We'll tailor the emails based on your online browsing activities, location and interactions with the BBC website, apps and the emails themselves.

If you'd like to receive this personalised service, simply register for BBC newsletters below, giving us permission to use your online browsing data for this purpose.

Find out more about the BBC's Privacy Policy and Cookies Policy.
Latest features from BBC Scotland
The 'stigma' of debt is preventing people from asking for help.

Psychotherapist Anna Mathus on dealing with outbursts.

Art blacksmith Agnes Jones on sexism in the industry.

An ancient manuscript reveals some curious advice.

Clever about Cash returns with advice for the home.

The Scot faces a punishing regime before meeting Jack Catterall.

The Style Fixers share their tips for customising a plain pair of shoes.

Chloe and Bert the boar shed light on the industry.

Alfie's carers decide whether he is strong enough to receive treatment.

Why a Scots family opened their home to refugees.

Pilots, cabin crew and passengers remember this national treasure.