Main content
What is Make Your Move?
If you are one of the many people across the UK who knows they should get a bit more active, we are talking to you.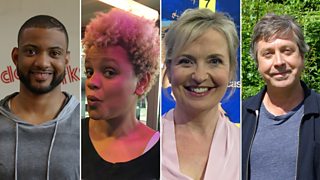 We want to help you get moving. Because once you realise that you can move, we know you will want to move more.
This campaign is promoting accessible, physical challenges for everyone. Whatever your personal motivation is, you can take steps (in the comfort of your own home and at low cost) to getting stronger and fitter.
The aim of Make Your Move is to see how easy it is to set a goal and enjoy the process of reaching that personal target. We're not talking about walking before you can run. We're talking about taking a couple of steps and seeing how you like it.
Make Your Move has been put together by BBC Sport's participation team at Get Inspired.
Please note that this campaign is now over but the resources are still available for anyone who wants to challenge themselves.
What Moves can I Make?
With the help of some experts, we have developed 16 different challenges that are achievable but, more importantly, they are fun and will probably make you smile.
These are divided into 4 different categories of fitness: Strength, Movement, Balance and Flexibility. It's up to you to choose which area you would most like to work on, but you can always do more than one challenge.
The idea is to see if you can impress yourself. We want you to pat yourself on the back for trying something new and feel the benefits.
Everyone is different and your level of fitness will be different to the next person who reads this page so the challenges vary in difficulty so that there is something for most people.
How do I get involved?
We're glad you asked. Follow these easy steps:
1. Take a look at our challenges and choose one. It's that easy. We've provided the instructions to complete the challenge you just need to commit to giving it a go until you have reached our goal.
2. Whether you take on a challenge on your own or with friends, family or work mates, we want you to show us your efforts. Give us updates using #MakeYourMove on Twitter, Instagram or Facebook, email us or send us a letter and some pictures (photos or hand drawn, we don't mind). Our address is:
Make Your Move
BBC Get Inspired
3rd Floor, Quay House
Salford Quays
M50 2QH
3. Looking to move more but not sure about taking on one of these challenges yet? Find taster sessions, events and clubs who are looking for people like you on the Get Inspired Activity Finder. The postcode search box will give you results for opportunities to get more active near you.
How fit do I have to be?
The challenges vary in difficulty but you will have to be in good health to participate.
If you are already doing a little bit of activity, you will find something that works for you but no matter how much or how little you already do, it's your responsibility to make sure you are not taking on too much for your fitness level.
Share your progress!
Use photos, videos, words, drawings, poems or any other way that you like to express yourself by using #MakeYourMove on Twitter, Instagram or Facebook.
If that isn't really your style, you can always email us or send us a letter – you don't have to tell the world you are joining in, but we'd like to hear from you.
But I already have an active lifestyle. How do I participate?
If you already love to challenge yourself physically and can't find a MYM challenge that is right but you still want to help us champion the idea of making a change to a more active lifestyle, join the conversation and tell us what you are up to.
#MakeYourMove is about helping yourself to feel great no matter what your fitness level. And encouraging others is always welcome.