Main content
13 Minutes to the Moon: Meet the team
Presenter and co-writer: Kevin Fong
Kevin Fong is an award-winning broadcaster and author. When he's not broadcasting, Kevin is a doctor and flies as part of a helicopter emergency medical service (HEMS) crew covering the South East of England.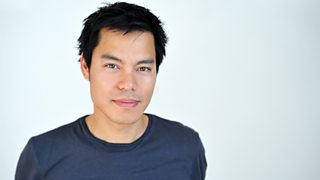 Dr Kevin Fong (Credit: Anthony Cullen)
He also holds degrees in astrophysics and aerospace engineering and has worked with NASA's Human Adaptation and Countermeasures Office, at Johnson Space Center in Houston, Texas. These experiences led to his current interest in risk management and decision making in high performance systems, and how lessons from one organisation might properly be translated and transferred to benefit others.
He has presented TV shows in the UK, including Space Shuttle: The Final Mission, Astronauts: Do You Have What it Takes, several Horizon programmes for the BBC and Channel 4's Extreme A&E. His radio documentaries include Game Changer: Fortnite on 4 and Trauma Medicine: The Fight for Life on BBC Radio 4. In 2015, he delivered the prestigious Royal Institution Christmas Lecture.
His book Extremes: Life, Death and the Limits of the Human Body won an American Association for the Advancement of Science Award (AAAS) in 2015. He was awarded an OBE for services to science, medicine and healthcare in the 2019 Queen's birthday honours.
Co-writer and series producer: Andrew Luck-Baker
Andrew Luck-Baker is an award-winning producer in the BBC Radio Science Unit, who has made science and environmental shows for the BBC World Service and BBC Radio 4 for 29 years.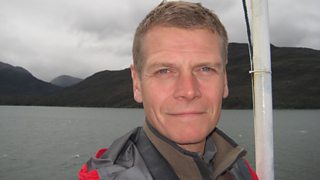 Andrew Luck-Baker
His documentary work has taken him all over the world, including Antarctica, Madagascar, Kenya, Ethiopia, China, Vietnam, India, Mexico and the United States.
His awards include the Kavli Science Journalism Gold Award from the American Association for the Advancement of Science in 2017 for his documentary The Whale Menopause, and the Rose D'Or Audio Entertainment award in 2019 for the first season of 13 Minutes to the Moon.
He has worked with Kevin Fong on several BBC Radio series on space exploration. His earliest memory of a television news story is Apollo 11 landing on the moon.
Producers: Chris Browning, Mark Rickards and Madeleine Finlay
Story Consultant: Catherine Winter from In the Dark at APM Reports
Technical production: Tim Heffer
Series Editor: Rami Tzabar
Additional production support: Sue Norton
Production Co-ordinator: Season 1 - Elisabeth Tuohy; Season 2 - Phil Hawkins
A BBC Radio Science Unit production for BBC World Service
BBC World Service Podcast Editor: Jon Manel
BBC World Service Senior Podcast Producer: Season 1 – Amelia Butterly; Season 2 – Rachel Simpson
Archive: NASA and the Johnson Space Center History Office
BBC World Service Digital team:
Digital Editor: Anna Doble
Digital Producer: Stephanie Constantine
Digital Producer: Meabh Richie
Senior Digital Producer: Katherine Campbell
Season 1 theme music by Hans Zimmer. Produced and arranged by Christian Lundberg for Bleeding Fingers Music.
Season 2 theme music by Hans Zimmer and Christian Lundberg for Bleeding Fingers Music. Producer: Russell Emanuel.
Artwork Design: D8
Publicist: Season 1 – Tess Coley; Season 2 - Suzie Schilling
US Publicist: Christopher Chafin
Marketing: Gabriele Genola