Main content
"I only get two passes and one of them's for my mum" - three-time World Drivers' Champion Lewis Hamilton still has home Grand Prix ticket trouble
11 July 2016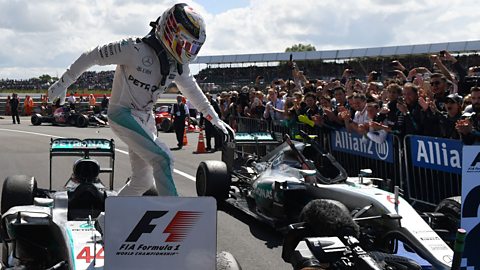 As if racing wasn't hard enough, this is one hectic schedule.
Nick Grimshaw and the Breakfast team headed up the M40 to Silverstone yesterday, as part of Grimmy's triple sport day, to speak to some chap from Stevenage called Lewis Hamilton.
The three-time Formula 1 World Champion had time for a quick chat about family and six-month-long hangovers before the race - we reckon it was Grimmy's reassuring manner that steered him to a record-matching fourth Silverstone victory.
"New Year's Eve was wild - I still feel sick and it's July" - Grimmy may not quite have the hang of this 'sports psychology preparation'
Grimmy interviewed Lewis in "a sort of really posh caravan" (we think that's called a motorhome, Nick) about the rainy conditions the Breakfast team seem to have brought up to the circuit with them.
Lewis said "Well, there's a lot of fans here, not great for the fans getting drenched. But they love it either way."
For me it makes it a lot trickier, when you have a dry race, the car stays a lot more stable. when it rains it's a lot more like ice - it's a lot more technical. A lot easier to make mistakes."
"I got here this morning, had breakfast and then in here we have a big meeting, full of engineers, all about strategy. All about today - plan A, plan B.
Then I have half an hour with my engineer, which I was just in but I actually don't talk to him at all. I just sit there with my headphones on and I write down my plan - plan of attack, things I need to remember, I write them down. Such as my pitstop time, lap, when the safety car window opens - which is if the safety car comes out and past that window, I have to pit. Engine switches, places I have to save the tyres, all these things.
And then it rains and it changes everything I've just written down!"
"I don't know if they're fully conscious - maybe my mum is - of how dangerous what I do is"
Lewis said despite being a three-time world champion, he only gets two passes per race - and one of those is for his mum. So he ends up pleading with Bernie Ecclestone for tickets for his aunts and cousins.
Grimmy asked Lewis what it's like having his family at a race - is it distracting?
"I don't ever get to see them before I get in the car but they're massively supportive and I don't know if they're fully conscious - maybe my mum is - of how dangerous what I do is but they're not phased by it. And aunties will be like 'go do your ting, go get it'"
What does a world champion do with two weeks off? Goes to see his grandad.
Grimmy asked Lewis what he's going to do with a massive two weeks off from the relentless Formula 1 schedule in August - bungee jumping? Extreme sports? (More extreme than taking a corner at over 200mph?)
"I'm always adventurous and I love being spontaneous - I have tried to plan in advance but my opinion and things I want to do changes every day. I end up leaving it to the last minute and then my poor assistants get stressed - because then I put them under pressure but they know that's how I am.
But then I've got that period of time and as long as I'm with friends, family, people I love, having a good time that's - what I do know is that I'll head to Carnival, which I love and being out in the Caribbean, it's where my dad's side of the family is from and I feel very at home there.
Maybe I'll stay out there, I wanna go and see my grandad cus I haven't seen him for a long time and he's getting old and he's got dementia, so he's really ...I wanna make sure that I get to spend a bit of time with him, even if he doesn't remember who I am.
He'll probably say to me 'you're that racer, right?"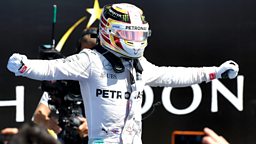 "You should be as bright and shine as much as you can" - Lewis on being a stand-out
Nick asked Lewis whether he ever annoys his team with his self-confessed "adrenaline junkie" antics. Apparently not, so long as he turns up and does his job well but is it a good thing, to be the breakout star from Formula 1?
"I think so, I think in life, often - and I remember this at school - it felt like they were pressuring me to be a certain way or some people feel cocooned in their little shell and then don't come out and I think we should all be... there's a great saying 'who am I to have to shrink around those to make others feel better?'
If anything you should be as bright and shine as much as you can and liberate others to do the same."