Main content
Big Weekend's battle of the sunglasses – who wore them best?
Every festival season, a new fashion statement gets people talking. And 2019 seems to be all about sunglasses. Sunglasses of every shape and size imaginable. Sunglasses that make a popstar's head look tiny, and sunnies that barely cover the eyes at all.
Big Weekend 2019 has played host to some seriously daring sunglasses. But who wore them best? See the contenders below and let us know your favourites on Twitter.
Contender #1: Miley Cyrus' supersized shades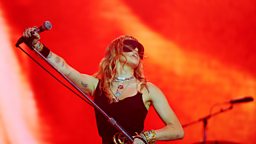 Only a Big Weekend headliner – or a member of Daft Punk – can pull these off. It helps if you're someone as famous as Miley Cyrus, too.
Contender #2: Future's hexagonal frames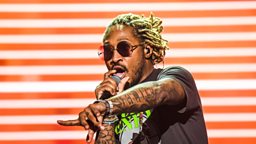 Atlanta rapper Future brought serious style to his Saturday night set. Forget standard spherical shades, or even square ones. Future went full hexagon.
Contender #3: Anne-Marie's old-school sunnies
The kind of sunglasses that could be worth thousands, or might have been found in the bargain bin of a charity shop. Anne-Marie doesn't look completely convinced with her shades here, but extra points for wearing something so daring at 1pm on a Saturday afternoon.
Contender #4: Billie Eilish's spyglasses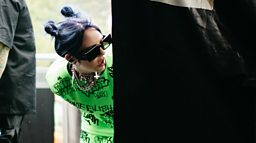 Despite being one of the most famous popstars in the world, Billie Eilish clearly thought her sunglasses could be part of a perfect disguise. Here she can be seen getting a sneak peek at the Big Weekend crowd, standing side of stage. We see you, Billie. You're fooling nobody.
Contender #5: Olly Alexander's orange resplendence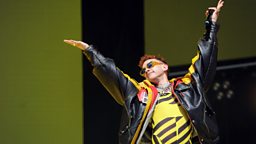 The Years & Years frontman made a quick Big Weekend cameo on Sunday when he joined producer Jax Jones on stage.
Clearly, he'd received word about the very serious sunglasses competition. So Olly decided to match his black-and-yellow jumpsuit with some orange-framed shades.
Contender #6: Sean Paul's unusual binoculars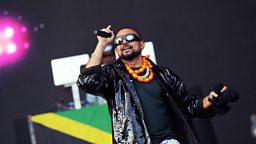 Surely these are just binoculars that have accidentally stuck themselves to Sean Paul's face. But let's not question the king of dancehall – he knows what he's doing.
Contender #7: Lewis Capaldi in his day job
When he's not releasing the fastest-selling album of the year, or sharing a bit too much information with his followers on social media, Lewis Capaldi can be found behind the till serving pasties.
But you'd be hard pressed to find a situation when Capaldi is not wearing sunglasses. Fashion never sleeps.