Main content
Christmas Cake
Jenny's Two-Fruit Christmas Cake with Sultanas and Cherries
This simple cake has great flavour and can be made for a special event at short notice. It is also economical yet you can vary the cherries in colour, and if you like mix sultanas and raisons together.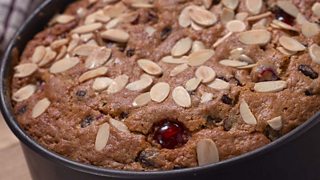 Ingredients
225g/8oz plain flour
680g/1½lb sultanas
450g/1lb glace cherries – red, green and yellow
Pinch of salt
225g/8oz butter
225g/8oz soft brown sugar
4 eggs – size 2
Rind of ½ lemon & orange
30g/1oz sliced whole almonds
55g/2oz ground almonds
1 tsp mixed spice
A little milk
½ tsp baking powder
1 tsp. cinnamon powder
Method
Clean the sultanas by washing and drying well. Wash and chop the cherries in half, and dry well. Toss the cherries in one-third of the flour to be used in the recipe.
Cream the butter and soft brown sugar until light and fluffy, then alternately add the lightly beaten eggs, flour, and almonds, in three additions. (Always sieve the flour before adding).
Add the lemon and orange rind spices, and finally the sultanas and cherries, use a little milk to adjust the consistency. Transfer to a well-lined 230mm (9inch) cake tin and bake at 180°C/350°F or Regulo 4 for half an hour. Reduce to 150°C/300°F or Regulo 2 until cooked (approximately 1½ hours) or until a skewer is dry when removed from the cake. Decorate with fruits or marzipan.