Main content
The next Bake Off presenters: Who wants to host the show?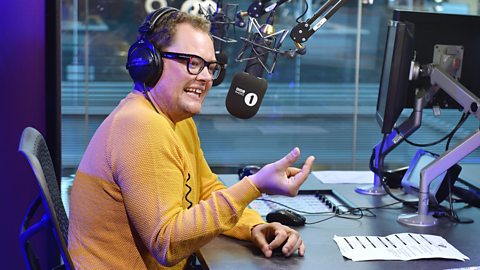 New GBBO presenter? Alan takes himself out of the race and everyone else for that matter!
Mary Berry, Sue Perkins and Mel Geidroyc's departure from The Great British Bake Off when it leaves the BBC is one of the biggest television bombshells of 2016.
Ever since the news broke, there has been fierce speculation over who will take over these three coveted roles but this morning, one key name ruled himself out of the running.
Alan Carr told Nick Grimshaw that he wouldn't consider a role on the show, even though no one has even offered it to him.
So, to set the record straight, here are all the key names (and an actor from Jurassic Park) who have been linked with a role on Bake Off and where they stand on hosting the all new version of the show - whether that's ON Channel 4, or a new baking-themed show on the BBC.
Alan Carr: It's a no (he's not the right flavour)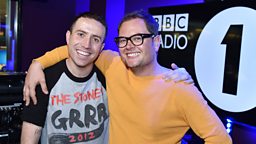 Alan Carr stopped all productivity at Radio 1 when he joined Nick Grimshaw to co-host the Breakfast Show. He was too hilarious for anyone to get any work done.
Amid the hilarity, he did say he wouldn't be hosting Bake Off. Which, TBH, is a shame.
"No one's approached me but I don't think I could do it. It's too loved and i'm like Marmite."
Well, Marmite's been on the shelves since 1902 so it must be doing something right.
#Radio1FoodFacts
Britney Spears: It's a yes (we think)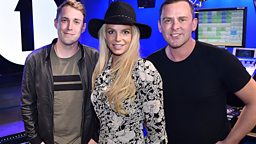 Queen Britney of Spears joined Scott Mills in September when she was in town to perform at the 2016 iTunes Festival. Brit was once a judge on X Factor USA so knows a bit about talent shows, and when asked about joining Bake Off, her answer was just so Britney.
"I love cooking! Yes. That's beautiful," she told Scott and Chris Stark.
Good. Glad we got that cleared up.
Philip Schofield and Holly Wiloughby: It's a no (and everyone was mad about it)
The This Morning hosts caused a minor storm on social media when they promised a major announcement about the new Bake Off presenters.
It was a bit of an anti climax if we are totally honest.
"We are in the mix at 100/1 and we can officially announce... It's NOT going to be us," they told viewers.
They later apologised on national television for playing with our emotions in such a cruel manner.
French & Saunders: It's a definite, quite-sweary no
As much as we'd like to see Dawn French and Jennifer Saunders eating cake in a tent, it won't be happening, despite tabloid reports suggesting they were in the running.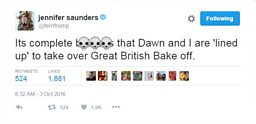 Well, that's pretty concrete.
Sam Neill from Jurassic Park: The most surprising yes
Credit: Universal Pictures
We'd be up for Chris Pratt hosting Bake Off, but we're not totally sold on Sam Neill (Dr Alan Grant from the very first Jurassic Park movie) who is up for swapping dinosaurs for decorating cakes.
"I'd be a hundred percent in," he told Absolute Radio. "I know nothing about baking but I don't think that should be a hurdle.
"It's about a year away from production. I could learn everything that you need to know about bread making."
Davina McCall: She doesn't eat sugar, so that's a not going to work
You don't want a Bake Off presenter prodding choux pastry and asking 'Is there sugar in this?' and Davina McCall knows it. She wouldn't consider a role on the show, despite being tipped to host, duet to her diet.
"I have not been approached and I have to say that would be tough wouldn't it, after Mel and Sue, because they were amazing," she said on the Jonathan Ross show.
"I haven't really thought about it, I love the show but it's cakes and I'm sugar free really.
"I think I'd probably have to [say no]"
Nadiya Hussain: Sadly, it's a no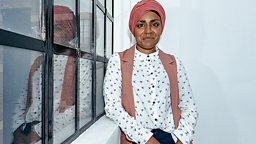 Everyone loves Nadia and she's enjoying life so much post-Bake Off now, she wouldn't consider a return to the tent.
"I'm kind of enjoying what I'm doing, actually," she told Absolute Radio.
"I'll judge it if Paul and Mary come back as contestants. We'd have to end the show with two winners and just let them have it."
And that's not going to happen.
Claire Balding: It's a no, she's happy sat on the sofa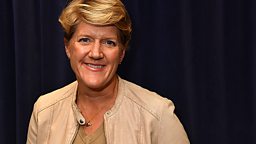 Sports presenter Claire has also shot down rumours she will be joining the show - because she's not very good in the kitchen and much happier watching the show from home.
"I wouldn't be remotely interested in presenting it," she is quoted as saying by OK Magazine. "I like watching it – why would I want to be presenting it? I can't cook."
The Great British Bake Off is on BBC 1 at 8pm on Wednesday