Main content
The Raft of the Medusa: A Film Maker's View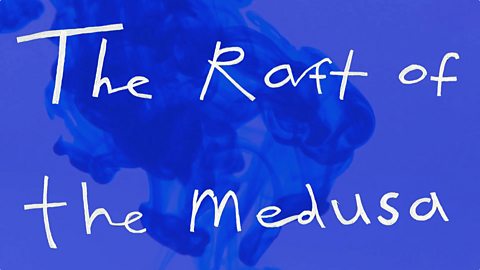 The Raft of the Medusa. A film by Richard Heslop, a radio play by Simon Armitage.
My job has been to be both a candle holder for Derek and his aesthetic, and to make a film that is a poetic visualisation of the subtext, atmosphere and emotion of Simon Armitage's story.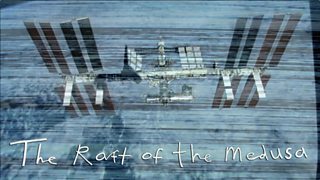 I began to feel more like a painter than a cameraman.
I often listen to Radio 4 plays and I'm very aware of the power of the mind in filling in the gaps and painting a visual picture of what the listener is listening to. My images will never be the same as someone else's mind's eye projections, but this is my job, I make images. If I get the process right what I show will help bring the story to life.
I now live by the sea in Hastings old town and started gathering material for The Raft of the Medusa last summer. Every day when the clouds and the light were doing something interesting I would go down to the sea and film the sky and the sea-scapes. I began to feel more like a painter than a cameraman.
Derek Jarman's house and garden are still in Dungeness. As it's only about 10 miles from where I live I went back there to capture it's unique light and that apocalyptic feeling and 'edge of the world-ness' that I've always loved about the place.
I work with collage and love the process of cutting out images, characters or food pictures from adverts or written snippets of dialogue from newspapers, all of which I edit and then reassemble on the page. I have done the same with this project, reading Simon's story and then trying to synthesize the elements that will enhance its emotion, create an atmosphere, or give another flavour to the film and at the same time infusing and evoking memories of Derek and his work in there too.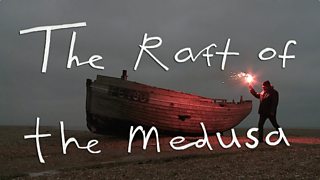 It doesn't seem like 20 years since Derek passed away from Aids. He was such a great person to work with, full of enthusiasm, wit and impish mischief. His films weren't always wholly commercially successful, but they were always utterly original; some weaved and flowed in and out of the story whilst others were quite extraordinary in that they were completely non-linear.
The Raft of the Medusa will weave and flow and melt and bubble away letting the viewer drift in a hypnotic calm, before pulling them out of their trance only to be immersed into another visual association.
There is a short sequence of Super 8 footage I shot of Derek Jarman himself during the making of 'The Garden' at the very end of the film. I included this as tribute to, and celebration of, his wonderful spirit and creative energy.
Miss you Derek.
Richard Heslop 2015