Main content
How is Flog It! made?
Take a look at what goes into creating Flog It! The team behind the cameras, the contributors, the stories, and the items. This whirlwind trip through the day will tell you everything you need to know.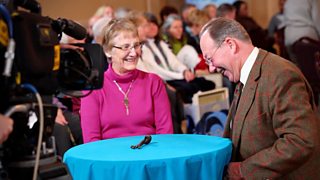 Flog It! By Numbers
Flog It! is created by BBC Bristol's factual department, which also makes Antiques Roadshow.
Each year we film about 16 valuation days across the country. The event is advertised in the local press and dates appear on the Flog It! web pages via the BBC's Take Part site, as and when they are confirmed.
Auction houses are selected because they are close to the valuation day venue and have a good reputation for selling the kind of objects usually brought along for the Flog It! experts to see.
Filming our valuation day involves quite a lot of people: camera crews, sound recordists, researchers, directors, lighting technicians, etc., and we often employ local students as stewards to help the day run smoothly. In addition to the two experts seen on the show, there are five valuers, each with different areas of expertise, working behind the scenes.
Whilst experts are filmed talking to members of the public about their antiques, Paul is filmed amongst the crowd chatting to everyone and talking directly to the camera. By using five cameras on the day, we make sure we can film as many people as possible and end up creating at least three separate editions of the programme. The more programmes we make from each location, the more efficient the whole process becomes.
Filming at auction houses has always been slightly fraught, simply because of the large number of lots we film – for three or more programmes – and the pressurised atmosphere of a live sale. We use three cameras to film the auction: one on Paul, the person selling their item and the expert, one on the auctioneer, and one filming people bidding or the staff taking phone bids, etc.
Paul usually films two of his programme 'inserts' – the parts when he visits a local castle, art gallery, museum and so on – in one day. They are so varied in subject matter and style, that it is difficult to describe a typical day.
Once everything has been filmed it takes about ten days of editing to create each programme back at BBC Bristol. But we make sure we have quite a few shows on the shelf before starting to broadcast them, so that we can be on the air for a few weeks at a time.