Main content
How did a dead athlete win an Olympic event? (And other facts from the Ancient Olympics)
2020 is an Olympic year, so there is no better time to brush up on your classical history knowledge of the world's most beloved sporting event.
In the latest season of the hit podcast You're Dead To Me, host Greg Jenner chats with Professor Michael Scott and comedian Shappi Khorsandi about the Ancient Olympic Games.
1. The Ancient Olympic Games had a pretty good run
The first games took place at Olympia – a small town on the Peloponnese peninsula in Greece – around 776BE and continued to take place every four years for nearly twelve centuries.
2. No Girls Allowed
Sorry Cheryl. Only men were allowed to compete in the Ancient Olympic Games. Women had their own games called Heraia. Victors at the Olympics and the Heraia won the same prize: an olive branch wreath from the sacred olive tree.
The Ancient Olympics
Listen to the podcast on BBC Sounds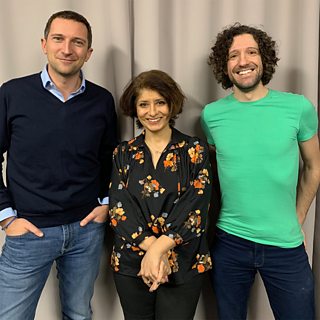 Prof Michael Scott, Shappi Khorsandi and Greg Jenner discuss The Ancient Olympics.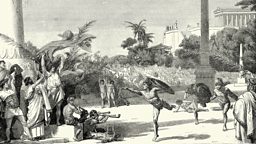 Vintage engraving of the Ancient Olympic Games
3. Kyniska, a Spartan Princess, was the first woman to win an Olympic event
Kyniska celebrated an Olympic victory after entering her team into the four-horse chariot race.
As owners rather than racers were considered victors, she was named winner despite the ban on women attending the games. Her victor statue at Olympia proudly proclaimed "... of all Grecian women, I first bore the crown".
4. All Olympic athletes competed in the nude
One of the only accepted accessories was a piece of string to keep your penis out of the way. Yikes.
5. Olympia was home to one of the Seven Wonders of the Ancient World
Constructed by the Greek sculptor Phidias, a 13m high gold and ivory statue of the Greek god Zeus would have dazzled visitors to the Temple of Zeus in Olympia.
6. It wasn't all fun and games
The Ancient Greek name for the Games was "Olympiakoi Agnos" which more accurately translates to The Olympic Pains, Agonies, or Struggles. Ouch.
7. You could still win even if you were dead
Arrichion was put in a choke hold while defending his Olympic title in the gruesome fighting games known as Pankration.
As he was being strangled, he grabbed and dislocated his opponent's ankle which prompted him to signal defeat. Unfortunately, Arrichion was already dead. The Olympic judges gave the victory to Arrichion.
8. Plato shared a tent with strangers
Aelian, an Ancient Historian, tells us that the famous philosopher Plato attended the games and kipped with strangers. It was only when Plato's new friends visited him in Athens that they realised they shared their Olympic digs with a celeb.
Greg Jenner, Prof Michael Scott and comedian Shappi Khorsandi limber up for a trip to The Ancient Olympics.

More from You're Dead To Me
Six things worth knowing about the 14th Century emperor of the Mali Empire, Mansa Musa.

Greg Jenner and his guests discuss the life and crimes of the infamous Blackbeard.