Main content
"How do you build a zoo?"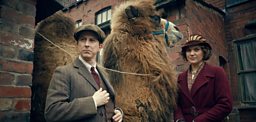 Producer Marcus Wilson writes about his experience of bringing children, animals and adults together to bring the story of Chester Zoo to life!
On Our Zoo all the usual rules went out the window about filming

Marcus Wilson
Never work with children or animals, they say. But when you're trying to tell the story of Chester Zoo, it's going to be hard to avoid!
It turned out though, as we launched into this huge production, that the children and animals would end up the least of our worries. The biggest challenge was doing justice to the story of the Mottershead family itself.
The story of how the zoo came about was fascinating to everyone who became involved in it; how a small band of people took on the challenges of building a new, better kind of Zoo that would bring joy not just to their family but all those who visited.
But how do you build a zoo? Like George Mottershead before us, we asked ourselves the same question. And the answer is clear – you start with the animals.
We had a head start on George though, with the fantastic support of Amazing Animals, who supplied and trained the animals we were to work with. Jim Clubb and his team dissected the scripts, advising on accuracy, suggesting which animals would play which roles best and then discussing what behaviour we could incorporate into the stories, without causing any stress or injury to the animals or the people working with them.
Jim was relentlessly honest; he'd tell you what the animals could comfortably and predictably do - and woes betide you if you ignored him. You can see him in episode one as the lion tamer – any man who will step into a cage with two huge lions is not to be argued with…
So on Our Zoo all the usual rules went out the window about filming, we worked our schedule and shooting around the animals, to minimize the amount of times they had to travel, to make sure they had the proper breaks and places to rest, and oh yes, how to dispose of all the – ahem - waste. Everyone raised their game when we were filming with the animals; when Dennis the Bear was ready, you didn't want to keep him waiting, and you didn't really want to be the reason he had to go for a second take!
However, we quickly learned one thing will motivate everyone – crew and animals alike - and that's food. The best way to train the animals to do anything was to reward them with food. All the fantastic performances given by Mitch and Malcolm (the two black cap squirrel monkeys who played Mortimer) were given not for glory, or awards, but for worms.
Making Our Zoo has been a fascinating experience. We've all learned so much about the amazing animals (no pun intended) and fallen a little in love with these fantastic creatures. And as for the children, well, we couldn't have done better than Honor Kneafsey who plays June. She's a brilliant actress, always knows her lines and never flinches when the animals come to set. And she's often there reassuring the grown ups when Jim brings out the snakes….