Main content
'Reach for the stars!': Tips for girls from space scientists
BBC Radio 5 live has been speaking to space scientists at Nasa about what advice they'd give to young girls wanting to be astronauts.
'Be stubborn and follow your heart'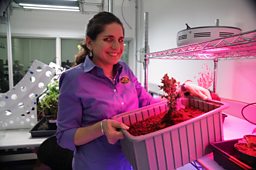 Gioia Massa is project manager in the Veggie lab at Kennedy Space Center. She works on future food production for space exploration.
She said she would like to see different types of women in science roles - more creative women, more extroverted women.
She had this advice for young girls:
"The number one thing for me was to be stubborn and follow your heart – and don't let anyone tell you that you can't do that.
"There certainly were aspects where I was challenged, I wasn't as great in math as some of my colleagues, my handwriting is terrible, so there are things that are not my strength, but when I fell in love with plants, plants were my strength and I really learnt and focused on that."
'Find what your passion is'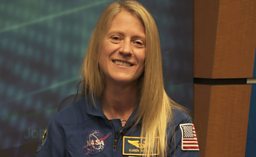 Karen Nyberg is a Nasa astronaut.
She said she sees a real challenge keeping girls interested in maths and science as they get older: "We need to figure out as mentors and educators how to keep them in these fields so they can reach for the stars."
Her message: "Find what your passion is - when I was growing up, my passion was space.
"And find out what it is you need to do, to reach the goal you have.
"A lot of times you'll find that math and science and those type of fields will get you there. And they're challenging, I'm not going to lie to you, but so rewarding when you reach that goal."
'You can be me!'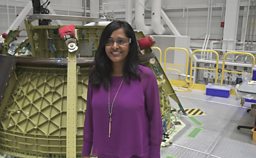 Subashini Iyer is the Boeing design engineering lead - her team is designing, building and manufacturing the Starliner which will take astronauts to the International Space Station.
"You can be me! You can do math and science and become an engineer or a programme manager and become part of the space mission.
"There are so many opportunities out there - I think women are the ones that hold themselves back from doing something like this. So I have to say to them, reach for the stars because you can make this happen"
'If you don't know how to code you're not in the cool club'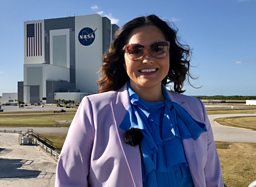 Misty Snopkowski is the launch site integrator for the Commercial Crew Program, working with Nasa and Space X.
She said she always wanted to work in science: "Even in high school I knew I wanted to be an engineer. I like Star Trek: The Next Generation, I was a total nerd in high school, it just kind of seemed that would be the way to go."
She hopes it's now something girls want to get into: "I think now it's the cool thing to totally be into math and science, being able to code, if you don't know how to code you're not in the cool club, so it's totally different now."
But she's very happy being land-based: "I've never even had a desire to be an astronaut - I get motion sickness really bad - so I'll be the person to help you get up there, but I don't know if I'd ever go up there myself."
'Figure out what you're interested in'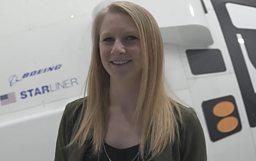 Lexi Deal is a payloads systems engineer for Boeing- she takes care of the exterior of the space station.
"I come from a different perspective, my mother was a vascular surgeon, so I grew up thinking I could do anything I wanted – she made sure as a child that I could see other women, she went and searched book stores for women in pilot seats for me."
Her advice to young women: "Know yourself, figure out what you're interested in, and focus on that and forget everybody else."
"I'm a very curious person – I always wanted to ask questions, and figure out and learn new stuff, so whenever people try to say, can you do that - it doesn't matter, I'm going to try, and I'll go and find it out myself."