Main content
Greatest Band T Shirts Vote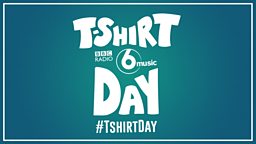 'Wear Your Old Band T Shirt To Work Day' is set to return this year on Friday 27 November.
Steve Lamacq has enlisted the help of designers, merchandisers and industry luminaries including Jeremy Deller, designer of the Yes artwork Roger Dean, illustrator Pete McKee, Mercury Prize shortlisted band Slaves, V&A curator Kristian Volsing, Design Museum and fellow 6 Music presenters to nominate their greatest band T-shirts. From their suggestions, Steve has created a shortlist, and now we need you to decide the winner. You can view all 30 T Shirts in our gallery here.
Vote below to tell us which one is your favourite!
The vote launches on Monday 2 November at 16.00 and will run until 19.00 on Thursday 26 November.
On T-Shirt Day, Steve will countdown the results in the final hour of his show, culminating in the announcement of the All-Time No 1 band T-shirt, as decided by 6 Music's listeners.