Main content
Power up: Author Naomi Alderman takes on Doctor Who, superheroes and zombies
21 October 2016
With an eagerly anticipated new book to cap an electrifying career that already includes several successful novels, tackling Doctor Who in a book tied to the series, an imminent Hollywood film adaptation, a hit smartphone app and a year-long creative collaboration with a literary giant, author Naomi Alderman is enjoying a purple patch. BIDISHA meets her for coffee to discuss books, gender, and the pros and cons of secret superhero powers.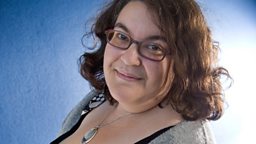 Naomi Alderman, pictured at the Edinburgh International Book Festival, 2010. Photo: Colin McPherson/Corbis via Getty Images
Novelist Naomi Alderman is beaming like the cat who got the cream. Literally – she's just been served her signature wake-me-up of a macchiato with a pixie-sized bottle of cream on the side.
We're in a café near her North London home and Alderman is enjoying the latest burst of success in a dazzling career. All three of her previous literary novels were BBC Books at Bedtime, she was on Granta's once-a-decade list of Best of Young British Novelists in 2013 and she's working with Margaret Atwood as part of the Rolex Mentor and Protégé Arts Initiative, which pairs creative talents in the same field.
The Power is about what happens when women and girls worldwide discover an ability to emit arcs of electricity
Oh, and it's just been announced that Rachel Weisz will be producing and starring in a Hollywood adaptation of Alderman's debut novel, Disobedience, about a young Orthodox Jewish woman who has an illicit affair with a female friend.
Alderman's latest book, The Power, is a far cry from her previous release The Liars' Gospel, which was a powerful account of the life of Jesus as a historical figure. The Power is about what happens when women and girls worldwide discover an ability to emit arcs of electricity.
This gives them superheroic traits but also liberates them from fear, provides a way to externalise anger, fight oppression, gain revenge against exploitation and seize (and possibly abuse) power. It's a storytelling juggernaut that thrills the reader without shying away from big questions about violence, power and gender.
I found The Power wildly exciting, cathartic and impossible to put down. Clearly, I wasn't the only one: so far, eleven TV and film companies are vying for the rights to take it on.
"We're swamped," says Alderman in disbelief. Only a decade into her writing career, the novel could take her from being a critical darling into a new level of mainstream success where "people you've never heard of and never spoken to are going around recommending your work to other people."
She is the creator of Zombies, Run!, "a very feminist, very racially diverse zombie running game"
Alderman already enjoys mainstream success in another field, one far removed from the rarefied world of literary fiction. She is the co-creator with Six to Start of Zombies, Run!, "a very feminist, very racially diverse zombie running game" which has been downloaded by million of users so far.
Alderman admits, "If I had sold four million copies of my novels, I would be in a different league of novelists. But it's about kudos, it's about cachet. Video games have somehow been deemed less worthy. But I want an audience and I don't believe in self-marginalisation."
Indeed, she is also the proud author of a Doctor Who novel and a forthcoming Zombies, Run! tie-in book. When I point out that she has never experienced failure she accepts this, saying, "I feel both lucky and proud of myself."
She adds that women should take credit for their achievements instead of behaving as we've been taught to, with modest self-abnegation underpinned by a fear of what will happen if we step out of line and our self-esteem is attacked as arrogance or selfishness.
It's a core theme in The Power: "Fear is the thing that keeps us in place. If you feel that you can blow everyone apart with electrical power, it makes all the difference to how you behave. Women are constantly schooled to perform our fear. We're supposed to take up less space, keep our voices down, to make ourselves pleasing. Gender affects every single aspect of your life in every way."
The Power is not a snide prediction that women would simply recreate an abusive world if we gained physical primacy. Instead it's a condemnation of the values which structure the contemporary society which shapes us all:
Never underestimate the geeks. We have been investigating the future. We know what is coming

Naomi Alderman
"We've pinpointed what the problem is: violence and machismo. And the novel is about what happens if you change one thing and change nothing else. It ties in to a deeper question: are matriarchies pacifist because women are nice or do pacifist societies enable women to rise to the top because they do not place value on violence?"
In order to get these ideas to fly, says Alderman, "I wanted it to be exciting. I had important things to talk about but I didn't want it to go down like an academic tract. I wanted the reader to be going, 'What's going to happen next?' The novel is never going to go away but it has to struggle against so many different forms of entertainment."
Alderman argues that TV and films will thrive while reading for pleasure will become "like exercise, something we do if we personally enjoy it, something middle class parents encourage their kids to do because it's good for us."
When I quail at this she jokes, "Believe me. Never underestimate the geeks. We have been investigating the future. We know what is coming." I almost see the power crackling at her fingertips.
The Power by Naomi Alderman is published on 27 October 2016 by Penguin Random House.
Naomi Alderman will be taking part in the #LovetoRead event at the British Library on 05 November 2016.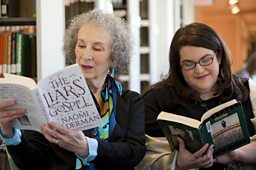 Margaret Atwood and Naomi Alderman. Photo: ©Rolex/Bart Michiels.
Naomi's game: Zombies, Run!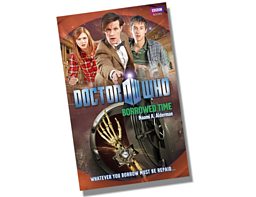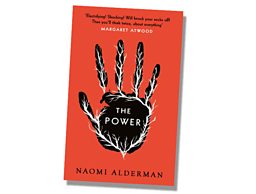 More from BBC Arts
All aboard! Trainspotting at the movies as Inside Cinema takes an in-depth survey of trains on film

An interview with the late author from 2011, featuring rarely-seen drafts and lithographs of the title page artwork