Main content
Stormzy: "If you don't rate me, shame on you"
The boundary-breaking grime MC is taking the art of freestyle from the streets to the charts
"Can't lie, it's been a good year for the kid"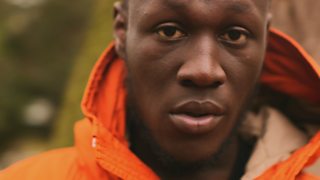 There's no shortage of talented MCs trying to make a name for themselves in the superheated battlezone of grime, but Stormzy always seems to be one jump ahead of the competition.

Still only 22, he already has a BET Award for Best International Act, MOBO for Best Grime Act, and was one of the specially chosen gang of grime MCs onstage with Kanye West at the 2015 Brit Awards - not to mention the fact that he came third in the BBC's Sound of 2015 shortlist.

These plaudits came after a ton of support from BBC Radio 1Xtra, and this groundbreaking (and very confident) appearance on Later... with Jools Holland, all without the benefit of a record deal.
While rappers and MCs always make a big deal of being from the streets, Stormzy's greatest video hits not only feature him walking the South London areas he grew up in, they're most often freestyled straight to camera while out and about with a gang of mates.

Everything from his signature tune Shut Up (a perfect counterpoint to Skepta's Shutdown, which you can hear about 37 minutes into 1Xtra's #SixtyMinutesLive - Kurupt FM Takeover) to WickedSkengMan - his series of inspirational freestyles - gets a public airing via his YouTube channel first, and often with the giggly breakdowns left in, as fans and friends react to his evil one-liners.

So he was clearly well prepared when Charlie Sloth invited him to perform this astonishing Fire in the Booth in September 2014.
"Shout out to my big bro Wiley, that's a badman from early"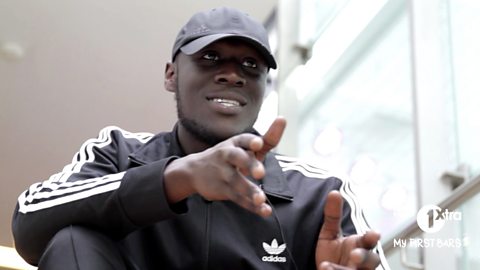 The 'wicked Skengman' takes it back to the first lyrics he ever wrote and recited.
This insistance on keeping things at street level is partly to keep his feet on the ground, but mostly because that's where he feels his rhymes work best, as he said in a recent i-D interview: "I don't even think of it as a strategy. It's me in my element, it's my forte. Me being with all the mandem on the ends, spitting to an old school grime riddim is me in my element, that's when I feel I'm at my best.

"I grew up in south London and I remember watching the scene pop off in East and think 'Ahhhh I would love to be in Bow E3 right now spitting wid Wiley and Dizzee'. So now that I'm here I feel like it'll be sick to let people come and spit and flex with man just for fun."

Speaking of Wiley, the grime pioneer was quick to offer his support to Stormzy as he won his MOBO, in 2014.
"My worst days are some of your best days"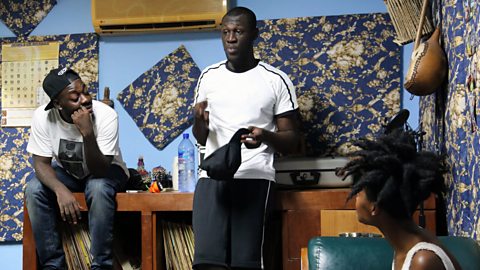 Watch an exclusive performance of 1Xtra's #GhanaXchange track
The most surprising thing about Stormzy is just how far he has infiltrated the mainstream in such a short time - his first tunes came out in November 2013 - without altering his working methods at all. Whether he's covering Drake and Wretch 32 in the Live Lounge or taking part in 1Xtra intiatives like Ghana Exchange or the Grime Symphony at the BBC Proms, he's always that pugnacious kid running his mouth, the one with the gang of mates behind him, willing him on.

This week, WickedSkengMan 4 is poised to enter the charts (parcelled up with a studio-ready version of Shut Up as a thank-you to the fans), which would make it the first freestyle to get into the Top 40, and one of the rudest chart hits since records began.

This is a prospect he clearly finds delightful: "I want it to be the biggest warning shot to the industry. We are coming. We're coming with dutty freestyles, with menacing themes, and horrible language over merky beats and guess what? You have to play it!"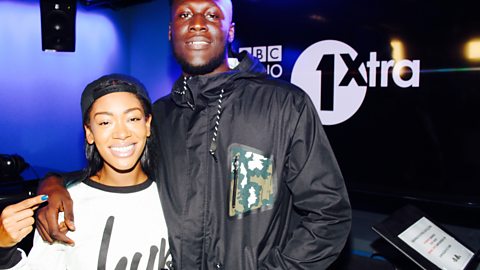 Stormzy is Sian's surprise guest as they talk new release Wicked Skeng Man 4 & much more