Main content
Meet our Conductors
Watch interviews with the BBC Scottish Symphony Orchestra's team of conductors.
Thomas Dausgaard: Chief Conductor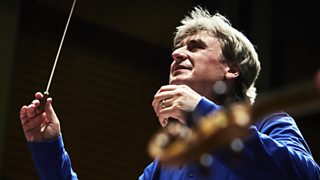 Thomas Dausgaard is Chief Conductor of the BBC Scottish Symphony Orchestra, Chief Conductor of the Swedish Chamber Orchestra, Principal Guest Conductor of the Seattle Symphony, Honorary Conductor of the Orchestra della Toscana (ORT), and Honorary Conductor of the Danish National Symphony Orchestra. He first conducted the BBC SSO in February 2002; his most recent appearance with the orchestra was at this year's BBC Proms. He is renowned for his creativity and innovation in programming, the excitement of his live performances, and his extensive catalogue of acclaimed recordings.
Ilan Volkov: Principal Guest Conductor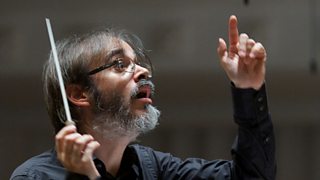 Born in Israel, Ilan Volkov studied at London's Royal College of Music, before securing positions as Principal Conductor of the London Philharmonic Youth Orchestra and Assistant Conductor of the Boston Symphony Orchestra. Appointed Principal Conductor of the BBC Scottish Symphony Orchestra in 2003, he subsequently became Principal Guest Conductor in 2009. Between 2011 to 2014 he was Music Director and Principal Conductor of the Iceland Symphony Orchestra and it was in Reykjavík in 2012 that he initiated and curated the 'Tectonics' festival, featuring contemporary classical music combined with improvisation, electronics and rock, which has since expanded to Glasgow (with the BBC SSO), Adelaide, London, New York, Oslo and Tel Aviv.
Donald Runnicles: Conductor Emeritus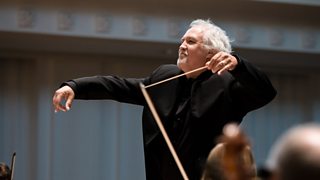 Donald Runnicles is the BBC Scottish Symphony Orchestra's Conductor Emeritus, having held the position of Chief Conductor from 2009 until the end of August 2016. He is also General Music Director of the Deutsche Oper Berlin, Music Director of the Grand Teton Music Festival in Jackson, Wyoming, and Principal Guest Conductor of the Atlanta Symphony Orchestra. During his time as the BBC SSO's Chief Conductor highlights included concert-performances of Wagner's Tristan und Isolde, a semi-staged performance of Tannhäuser at the BBC Proms, and the Scottish Premiere in Glasgow of Sir James MacMillan's St John Passion.
John Wilson: Associate Guest Conductor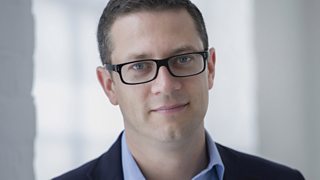 John Wilson is the BBC SSO's Associate Guest Conductor, having been appointed to the post in September 2016. He is known for the vivid nature of his interpretations and for the rich and colourful sounds that he draws from orchestras, in repertoire ranging from core Classical through to the 21st century. An outstanding communicator and a recognised builder of audiences, he has developed long-term affiliations with many of the UK's major orchestras and increasingly is working further afield, most recently with the Sydney Symphony Orchestra. He has worked regularly with the BBC SSO since 2002.