Main content
BBC Radio Scotland Young Traditional Musician Award Finalists 2018 Announced
The eighteenth BBC Radio Scotland Young Traditional Musician Award semi-finals were held on Saturday 7th October in Coulter Hall, South Lanarkshire. Twelve young musicians from all over Scotland competed in a great concert celebrating Scotland's fabulous traditional music. The panel of judges picked 6 musicians to go through to the Finals which will be held in January at Glasgow's Celtic Connections festival on January 28th 2018. They are: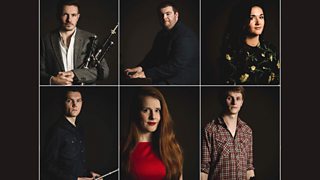 The Finalists
David Shedden – bagpipes (Glasgow)
David, from Glasgow, started piping at the age of 9. He was first taught by his father, Stuart, before receiving tuition from Gordon Walker and Donald MacPherson. After graduating from the Royal Conservatoire of Scotland, David is now a self-employed musician and the piping tutor for Falkirk Schools.
Amy Papiransky – voice (Keith)
From the small town of Keith in the North East, Amy has sung in Germany, Canada and America as well as on BBC Scotland's radio show Take the Floor and BBC Proms in the Park to name a few. She has decided to take a break from a career in music teaching to pursue her love of singing and playing traditional Scottish music. Amy has just started her Masters in Scots Singing at the Royal Conservatoire of Scotland.
Hannah Rarity – voice (West Lothian)
A graduate of the Royal Conservatoire of Scotland, thus far in her career Hannah has toured internationally with Cherish the Ladies recorded her debut EP to acclaim, sold out her 2017 show at the Edinburgh Fringe, performed with the RSNO and featured in projects for the BBC and the Scottish Chamber Orchestra.
Rory Matheson - piano (Sutherland)
Originally from Assynt in Sutherland, Rory was brought up playing the accordion with the West Coast Ceilidh Traditions which has been hugely influential to his playing. When he took up piano in high school Rory started listening to jazz, blues and more contemporary folk music, all of which influences his music and playing.
Luc McNally – guitar / voice (Dipton) - unable to perform due to injury
Luc McNally is a guitarist and singer originally from County Durham in the North East of England. He currently resides in Glasgow where he plays with a number of different musicians from Scotland and elsewhere. He plays with, among others, the traditional/fusion band Dosca and acoustic trio Snuffbox.
Alexander Levack – whistles / pipes (Maryburgh)
Ali specialises in piping and whistles and at the age of 14 Ali moved to the National Centre of Excellence for Traditional Music in Plockton for four years. Ali has used his skills recently accompanying a wide range of singers and musicians including Mischa MacPherson, Dougie Maclean and - he likes to drop this one in - Kylie Minogue! Ali is about to release a new album with guitarist Pablo Lafuente.