Main content
A Guide to Your Cat interactive ebook
Download the ebook guide to your cat
An owner's guide to cats, offering expert advice on how to care for your cat alongside the latest scientific analysis, interactive features and plenty of fascinating case studies.
iPAD download

UK only, iPad with iBooks 3 or later and iOS 5.1 or later and Mac supporting OS X 10.9 (Mavericks)


ANDROID download

UK only, tablets with Android 4.0.3 (Ice Cream Sandwich) and up


KINDLE download

UK only, Kindle Fire HD tablets and up
FAQs about the interactive book trial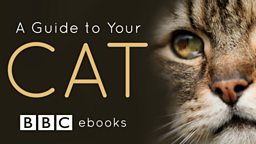 More BBC ebooks
Featuring specially curated video clips of some of the best moments from the Horizon archives.

Featuring extra unseen and uncut interviews with some of the final remaining survivors.

Can you guess an animal from its bones? Test your skills by exploring five very different skeletons.

Compare diary accounts of the pioneering 1869 expedition with our modern day recreation.