Main content
7 invaluable Twitter lessons we can all learn from Justin Bieber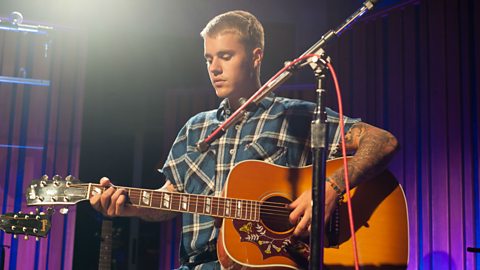 But are Bieber's tweets worthy of so many followers? Grimmy thinks so...
Justin Bieber has just hit another major milestone.
Not content with breaking eight Guinness World Records - including having the most viewed YouTube channel and being the first act to fill three spots on the UK singles chart (Love Yourself at No.1, Sorry at No.2 and What Do You Mean at No.3) - Bieber has only gone and hit a mind-blowing ONE HUNDRED MILLION followers on Twitter.
Following in Katy Perry's footsteps, Bieber is the second person to have such a mammoth following. You might be thinking 'well, what about Bieber warrants that many followers?' and, absolute bangers aside, we think we've got the answer.
It turns out that JB has all but sussed Twitter. His tweets are classic (iconic, in some cases), relatable, funny, bizarre and full of personality. With that in mind, here are seven indispensable lessons about tweeting - sure to send your follower count soaring - courtesy of the man himself...
1. Baby, you should go and love yourself
Sing (or tweet) it with us! "'Cause if you like the way you look that much, Oh baby you should go and love yourself..."
Back in November of 2K11, Bieber inadvertently laid down the foundations of his 2K15 hit Love Yourself with this self love-centric tweet (or did he do it - wait for it - on... Purpose? Huh? MIND BLOWN.).
May this tweet serve as a steadfast reminder that loving yourself should always be a priority and one that you should never be afraid to shout from the hypothetical rooftops ('rooftops' in this instance being 'any and every social media account you've got').
We could debate the unfounded nature of that ol' chestnut 'you can't go swimming just after you've eaten' all day long (we suspect it might've been mum's ingenious method of ensuring we wolfed down our peas in a speedy manner) but the lesson here is not about the recommended food intake pre-pool sesh - no, no! - it's about not being afraid to break the rules.
Do you prefer your morning cereal with an unusual topping? Do you like your eggs sunny side down? Do you think that socks and sandals are actually a pretty aesthetically pleasing combo? If you do, shout about it. Your tweets will resonate with someone, somewhere, and you'll gain kudos as a 140 character maverick.
3. Start a worthwhile discussion
Twitter is a place for conversation. A place for community. A space to ask the big questions - the really big questions - like 'how long can you hold your breath underwater?', for instance.
Important note: if you're Justin Bieber, spelling doesn't really matter all that much (note the use of 'breathe' instead of 'breath'). But if you're literally anyone else (and we're assuming you are), spelling matters a little bit, at least. Nail the basics and you'll avoid the spelling police, as well as initiating an interesting conversation about the breath-holding capabilities of strangers you've never met.
4. Be your authentic self
This lesson falls under the 'JUST DO YOU!' school of thought. Channel authenticity and combat societal norms by speaking your damn mind. You like naps? Go take a nap! Did you have a nice nap? Tweet about it! Have a bad nap? Tweet about it! You might change a few lives in the process.
You're sexy and you know it but you're also pretty bad at maths. In other words: you're a human being, full to the fleshy brim with multitudes!
If you're going to shout about the good stuff (as you should) then why not consider branching off into 'things I'm actually not quite as accomplished at' territory, too? For someone like Bieber, this kind of tweet serves as a simple reminder that he isn't as perfect as we imagine him to be (#humanising). For us regular Joe's, this kind of tweet serves as a simple reminder that SOME THINGS ARE HARD and it's comforting to know that other people find things hard, too.
6. Remember that haters gonna hate
While we imagined that one day everyone would be a card-carrying member of the Belieber fandom (we did, honest), we're not sure that the world was convinced. But you know who didn't care either way? Bieber. He had nothing but love for everyone.
The name of this class is 'sometimes people won't agree with everything that you tweet, and that's OK'. Twitter is chockablock with a smorgasbord of personalities and, among them, a good few trolls. Not everyone is going to be a fan but it's important to remember not to feed the negativity. Lavish love upon everyone, a la Biebs, and just DO YOU.
7. Know the difference between 'there', 'their' and 'they're'
This is more of a life lesson than anything else but one that is invaluable when it comes to tweeting: know the difference between 'there', 'their' and 'they're'. This classic JB tweet didn't perform as well as his others in the retweet department and we're 98.7% sure that that has everything to do with his rookie spelling mistake.
Here's a cheat sheet, should you need a reminder...
'If I could be any animal I'd be a liger, 'cause they're sweet.'
'Hey, look! Is that a liger over there?'
'Oh, those ligers? Yeah, their favourite music is Justin Bieber.'
Now you've got all the tools you need to make your mark on Twitter. Go forth and knock socks off. CLASS DISMISSED!