Main content
Best Film
The biggest night of the year for teens, BBC Radio 1's Teen Awards returns for its 11th year honouring the best stars of music, movies, and TV. Who do you want to win at Radio 1's Teen Awards 2018?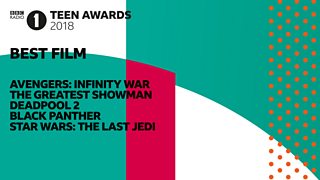 Voting is now closed!
Results will be announced live at the star-studded Teen Awards show on Sunday 21st October 2018.
And the nominees are….
AVENGERS: INFINITY WAR
THE GREATEST SHOWMAN
DEADPOOL 2
BLACK PANTHER
STAR WARS: THE LAST JEDI