Main content
Feline favourites: An exhibition of literature's leading cats
28 November 2019
Even before the internet, cats captured the cultural imagination. A new exhibition at the British Library explores the various literary guises of our feline friends in stories and poems, from comical kitties to mysterious creatures and master criminals.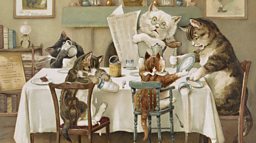 Pussy's Breakfast Time, London, Ernest Nister, 1892 (detail of) | © The British Library Board
The new exhibition, Cats on the Page, at The British Library brings together original illustrations and a selection of sound recordings that celebrate cats and their capers in rhymes and stories.
There are sections exploring The Mystery of Cats, Traditional Tails, The Purrfect Crime, In the Company of Cats, Comical Cats and Mewsic and Mayhem, with recordings including a reading of Macavity the Mystery Cat by TS Eliot, and songs from the musical Cats and Disney's The Aristocats.
The exhibition's run coincides with the 80th anniversary year of the original publication of Eliot's classic poetry collection, Old Possum's Book of Practical Cats, which forms the basis for the musical Cats. The musical is now being adapted into a film for 2019, with a star-studded cast featuring Dame Judi Dench, Sir Ian McKellen, Idris Elba and Taylor Swift.
Warning: Third party content may contain adverts.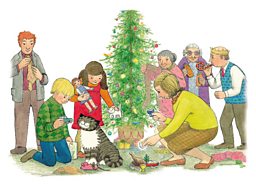 First published in 1970, Mog is the forgetful, boiled-egg loving pet cat of the Thomas family. In an unusual move for a children's book Mog died in the final story, Goodbye Mog. However, while her literary days are done she returned in 2015 for the Sainbury's Christmas advert, Mog's Christmas Calamity | © Kerr Kneale Productions Ltd
Louis Wain was an English artist who drew cats and kittens, often wearing contemporary clothing and doing everyday activities, like going to school. Anthropomorphic portrayals of animals were very popular in Victorian England and often featured on prints and greeting cards | Mrs Tabitha's Cats' Academy, published by Ernest Nister, 1892, © The British Library Board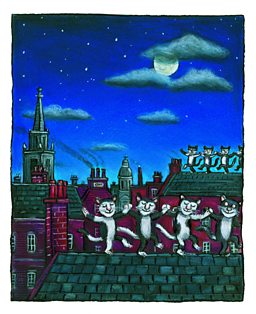 This 2009 edition of TS Eliot's whimsical poems, Old Possum's Book of Practical Cats, is illustrated by the award-winning illustrator of The Gruffalo, Axel Scheffler | © T. S. Eliot and Faber & Faber
Lewis Carroll's own copy of the exceptionally rare third edition of Through the Looking-Glass and What Alice Found There (1893), in which the author notes his frustration with the printing beside a picture of Alice's kitten: "Much over-printed, very bad" | © The British Library Board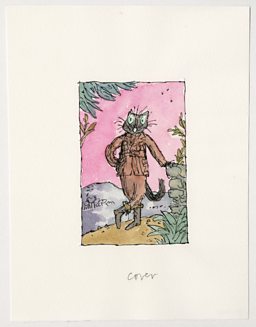 A new story by Beatrix Potter, Kitty-in-Boots, was discovered in 2016, over 100 years after she wrote it. Published by Frederick Warne & Co, Potter's original publisher, the book features illustrations by Quentin Blake | © Quentin Blake, 2016
Dame Wiggins of Lee and Her Seven Wonderful Cats was a poem circa 1825, republished by art critic and author John Ruskin in 1885 by his own publishing company. The new edition featured four new illustrations by his friend Kate Greenaway and four additional verses by Ruskin. The clever cats in the poem not only catch mice but also attend school and have adventures in the countryside | © The British Library Board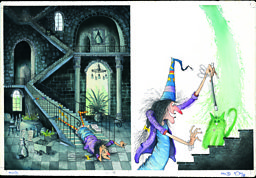 First published in 1987, the Winnie the Witch picture books have sold over five million copies. Written by Valerie Thomas and illustrated by Korky Paul, they star a witch and her cat, Wilbur | © Korky Paul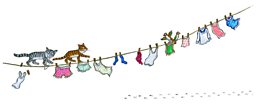 Mungojerrie and Rumpleteazer illustration by Axel Scheffler, published in Old Possum's Book of Practical Cats, 2009 | © TS Eliot and Faber & Faber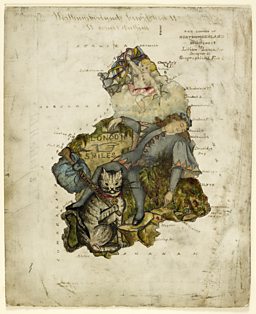 Lillian Lancaster created humorous caricature map drawings, some which reflect her career on stage and her love of pantomime. This illustration titled "Northumberland Bewitched" (19th Century) shows a scene from Dick Whittington and his cat | © The British Library Board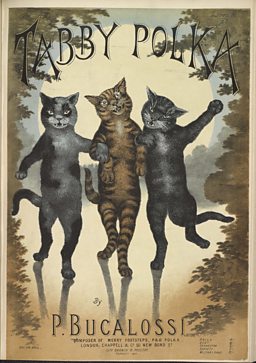 Artist Louis Wain created this picture of three dancing cats for British-Italian light music composer P Bucalossi's Tabby Polka, 1865 | © The British Library Board
Cats on the Page is a free exhibition in the British Library's Entrance Hall. It runs from 23 November 2018 - 17 March 2019.
More illustration from BBC Arts