Main content
Character building: How poet Sabrina Mahfouz found her voice
29 November 2016
Writer Sabrina Mahfouz is nothing if not prolific. Plays, articles, screenplays, even a libretto are to be found on her CV - and now poetry too. As BIDISHA discovers, Mahfouz's debut collection of verse shows a poet strongly motivated by the voices, and issues, which surround her.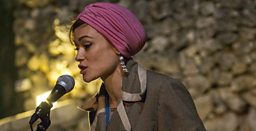 Poet and playwright Sabrina Mahfouz performs during the closing event of the 2014 Palestine Festival of Literature. I Photo: Rob Stothard/Getty
Sabrina Mahfouz is telling me about what she calls "the night world."
The poet, playwright and screenwriter paid her way through university by waitressing in London strip clubs and members' nightclubs. "It allowed me to observe," she says. "The writing just came, so much that I'd write on pieces of till receipt while I had my tray."
Initially, Mahfouz found it quite fun. "I loved going out, I loved dressing up. But by the time I was leaving that world, I was really angry about it. As waitresses, we had to wear only underwear, but the male waiters could wear full, normal clothes.
I thought, 'Hang on a minute. This is messed up. These guys get to wear suits when they're doing the same job as us.'
'I went to the management and they said, 'Sabrina, it's a strip club. What d'you expect?' It made me analyse things in a new way."
"I'd studied feminism in books but I didn't really apply it to the facts of my daily life."
The experience led to a political and artistic awakening. By the time she left, Mahfouz had developed an impressive body of work, as well as doing outreach work about gender and inequality with charities and campaigning groups.
The writing just came, so much that I'd write on pieces of till receipt while I had my tray.

Sabrina Mahfouz
Her new collection of poetry, How You Might Know Me, depicts four different women in prostitution, without demonisation, judgement or romanticism.
The characters of Sylvia, Sharifa, Tali and Darina narrate strips of spiky monologue alternating with careful verses of subtle observation.
They represent themselves as workers, mothers, realists, feminists, victims, dreamers, saviours and healers.
They bear the hypocritical judgement of others: they are shunned at the school gates while the "dad that picked you up like milk" retains his position as a family man at the heart of the community.
There is a stark realism to the details in How You Might Know Me: a shivering woman made to put on shoes chosen by a fetishistic 'john', a man who makes prostitutes wear a fake pregnancy bump which he keeps in his car.
The collection is brilliant on the pretence of mutuality and desire: empathy is merely "a fizzy drink can" and conversing with 'johns' is "swilled words in mouths" while the men labour under a "misplaced pride in unphotogenic body parts."
Male violence and female fear stalk the collection: a man strangles his wife until her neck is "a world map of bruises"; punters might be "skilled in some torture"; a stranger's kisses "scatter pebbles along my skin".
"Voice inspires me and motivates me," says Mahfouz when I tell her I can picture her (fictional) narrators.
"I started poetry at the same time that I began writing for the stage, so there is performativity in the poetry."
There's also a lyricism in her stage work, which shares the grit, wit and character-led dynamism of How You Might Know Me.
Her play With A Little Bit of Luck is a tribute to UK garage music, filtered through the life of a young heroine, Nadia; Chef, about a head chef who finds herself in prison, came to the Soho Theatre last year.
Dry Ice was staged in Edinburgh, directed by former Friends actor David Schwimmer, who told her, "you're free to publicise my part in this if you think it's helpful. Or not, if it's not helpful."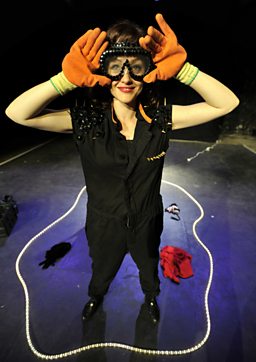 Sabrina Mahfouz in 'Dry Ice', which was her debut solo show at the Edinburgh Fringe Festival 2011 I Photo: Robbie Jack/Getty
The Break: Breaking the Code
Taj Atwal stars as Musheera, a girl struggling to find the right words to come clean to her mum.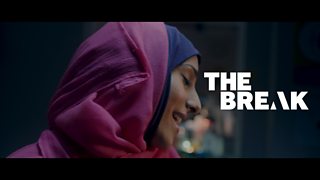 Mum, I love you, but I've been lying to you for the last three years...
Read about The Break and discover more about the series which is set to return to BBC Three.
Railway Nation: A Journey in Verse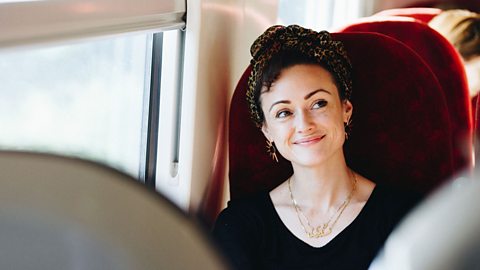 Observing the journey out of the busy capital city in poetic verse.
In recent years Mahfouz has written numerous TV pieces, including Railway Nation: A Journey in Verse for BBC2's recent Poetry Night and the BBC3 drama Breaking The Code, and is developing various film and series ideas.
Voice inspires me and motivates me.
When I marvel at her work rate she demurs, "I put a lot of things out there and I don't feel that each of these things defines me, but I need to do it to get to the next place artistically."
Mahfouz is currently collaborating with poet Hollie McNish – author of the brilliant recent collection about motherhood, Nobody Told Me – on Offside, a play about women in football across the centuries.
She is also branching into opera, working with British-Lebanese composer Bushra El-Turk on a Royal Opera House adaptation of the Egyptian author Nawal el-Sadaawi's novel Woman at Point Zero.
Mahfouz says that what unifies her work are not sociological issues but creative preoccupations like voice, rhythm and character, although her current play Layla's Room, which ends its 2016 tour this month, focuses on boys' sexual abuse of girls in schools and she is working on a play called Slug, about "gender fluidity and gender definitions."
Still, she resists definition as a polemical writer: "The characters I'm interested in are living in the world, and the world is full of these issues."
How You Might Know Me is out now, published by Out-Spoken Press.
More poetry on BBC Arts
Spoken word performance artist Kate Tempest tells the story of Pete.

The former Poetry Slam champion performing at the Rivoli Ballroom, London