Main content
Amped up: How Lou Reed turned feedback into an artform
2 March 2017
The late Velvet Underground guitarist Lou Reed, who would have turned 75 today, loved feedback. His wife Laurie Anderson and his guitar technician Stewart Hurwood discuss Reed's use of 'drones' at an innovative installation of his guitars and amps.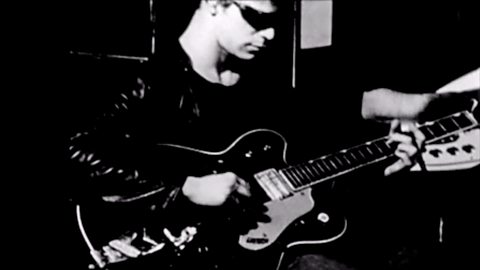 An installation of Lou Reed's guitars and amps in feedback mode at Brighton Festival.
Talking at the Brighton Festival, Reed's partner and collaborator Laurie Anderson relates how, when the exhibition opened in New York, many people, including an Iranian bagpipe player, showed up with instruments and stayed all day. Anderson describes the event as 'a new art form'.
Stewart Hurwood, Reed's long-time guitar technician and curator of the Drones exhibition, demonstrates the art of feedback as heard on 'gear-head' Reed's 1975 album Metal Machine Music.
Filmed by Spike Geilinger of Cinestre Films at Brighton Festival 2016 for BBC Arts.
More on Lou Reed, the Velvet Underground and the Factory
Lou Reed, Yoko Ono and others captured at Warhol's Factory by teenage photographer Stephen Shore.

Charlatans frontman Tim Burgess on what happened when he asked Lou Reed for an autograph.