Main content
The Brooklyn Scotsman: chasing dreams of hip-hop stardom
Stevie Creed is determined to follow his dreams, saying: "If your heart's telling you to do something, why would you ignore it?".
In The Brooklyn Scotsman, the 27-year-old travels to New York to immerse himself in the city's music scene. He returns to the borough of Brooklyn, an area he first visited as a teenager, where he aims to reconnect with friends and mentors who can help his music career.
Stevie grabs every chance he's given and even when taking a few days out to party in Atlanta, he drops in to a local radio station to promote his music and tell his story.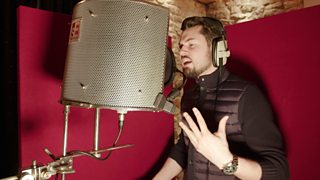 "I'm out here just because I believe," he explains to programme host Rondu. "I believe that I'll be OK."

During his first trip to New York, Stevie's eyes were opened to the realities of life in the city – from seeing skyscrapers for the first time to discovering Brooklyn's seedier side – and he reflects on those experiences in his music.
"You're basically reporting what you're seeing," recognises Rondu. "The greatest hip hop artists are always storytellers."
Stevie's running out of money and has no clear plan, but he's determined to continue and build on what he's been through.
"All that stuff happened [in New York] and now I'm on that journey. I don't want to be the guy that goes back to Scotland and takes all these stories but doesn't come back and finish what I started with the people of Brooklyn."
On BBC iPlayer
A documentary following Scottish hip-hop artist Stevie Creed as he travels to New York City to reconnect with his past and pursue his musical dreams.
Latest features from BBC Scotland