Main content
About
The quirky charm of Digital Nation, by Chris Carnegy, BBC Editor, Local TV
As a 1970s schoolboy, volunteering in hospital radio, I built-up the courage to knock on the nearby door of BBC legend Sue Lawley. At the time, she hosted the nightly news magazine programme Nationwide and generously agreed to come into our tiny studio for an interview.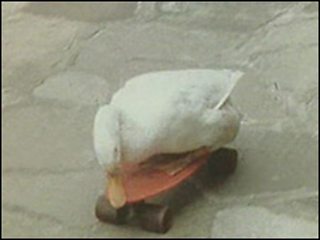 Herbie in action on his board
Almost everyone has a memorable story to tell.

Chris Carnegy, BBC Editor, Local TV
It wasn't exactly a "Frost-Nixon" interview, but I ventured one attempt at a challenging question. "Isn't it trivial?" I asked, "Isn't Nationwide most famous for skateboarding ducks?"
"The skateboarding duck", who was called Herbie and rode the board on camera for all of four seconds, has become universal shorthand for the kind of quirky TV report that lifts us out of the daily grind of hard news. So perhaps it's appropriate that the first edition of Digital Nation on BBC iPlayer features a plucky tortoise, a gregarious cat and a lonely elephant. Our showcase for local TV is part of a proud tradition.
New kid on the block
Local TV is, amazingly, the newest kid on the UK media block. That's because national and regional telly – so wittily blended by Sue Lawley and the Nationwide team – was long ago embedded into the landscape, and for decades nobody challenged it on the traditional airwaves. That changed in November 2013 with the Freeview launch of Estuary TV in Grimsby, and as I write there are already 21 town and city TV stations scattered across the UK.
The BBC was given a special role in encouraging the new services and most of what we did wasn't very showbiz: we paid for their transmitters and created a cash market for their news footage. One day they came to me with a novel idea: could we also incentivise local TV to make the sort of reports that surprise, engage and delight? Digital Nation was born.
Colourful stories
The show is deliberately eclectic – we don't try to follow a theme or develop a narrative. Each week we scamper around the country, sniffing the local airwaves and inhaling a colourful cross-section of what's on them. You can watch the whole thing, or home-in on a region or topic that interests you.
The animal stories are a source of joy, but there are also countless people overcoming life's obstacles and making a difference in their communities. There are glimpses into fascinating corners of our country's history and there are moments when the sheer pride that folk feel for their home town makes you wish you lived there with them.
There have been times recently when it felt like we were being overwhelmed by news. The pace and the seriousness of world events has tested broadcasters, and challenged viewers to keep-up. So it's good to be reminded that some things don't change: most people are lovely neighbours and almost everyone has a memorable story to tell.
Oh, I forgot to say. Sue Lawley came firmly back at me with her response to my 'skateboarding duck' challenge. "That", she said "is what people very much want to watch". She wasn't wrong then and I rather think she's not wrong now.