Main content
Exhibition
To coincide with the BBC Two series Prehistoric Autopsy, BBC Learning is going on the road with a new hands-on exhibition aimed at families with children aged 7-12 years old.
Picture: A prehistoric Neanderthal skeleton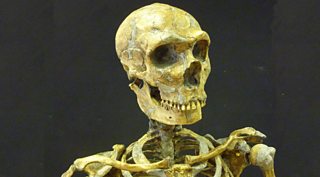 Visitors will come face-to-face with three of our earliest ancestors: a Neanderthal, a Homo Erectus and an Australopithecus Afarensis.
The centrepiece of the exhibition will be the actual models used in the television series which have been rebuilt in extraordinary detail based on fragmented remains of ancient bones and the latest scientific research.
There will also be interactive activities and games and a chance to recreate some of the shell decorations that our ancestors may have once worn.
| Dates | Location |
| --- | --- |
| 22-25 October | Thinktank, Birmingham science museum |
| 27-30 October | The Manchester Museum |
| 01-04 November | Great North Museum: Hancock, Newcastle |
| 08-11 November | National Museum Cardiff |
| 14-18 November | Horniman Museum, London |
| 23-25 November | National Museum of Scotland, Edinburgh |