Main content
9 ways to stay stylish without spending a fortune
Summer may be on its way, but there's no need to fork out for a whole new wardrobe. These 9 thrifty tips will help you dress like a style icon without it costing a thing.
1. Distress your denim
Give your old blue jeans a new edge by cutting in a few rips then sticking them in the washing machine for a spin or two to fray the edges.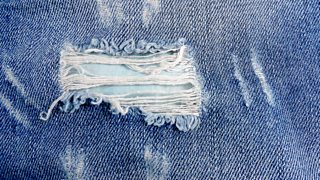 Want to go even more rock 'n' roll? Try roughing them up around the pockets with sandpaper or a nail file.
There's a fine line between gently distressed denim and going too far. If you end up with more holes than jeans, simply chop the legs off and you'll have a lovely new pair of shorts.
2. Belt Up
Put a new spin on an old frock by adding a statement belt.
If it's a loose fitting dress, you can play around with the height of the belt to create different effects. Wear it figure-huggingly high to emphasise your waistline, or let it sit slack on your hips for a baggier look.
And remember, belts don't have to have buckles – a sash, scarf or tie will do the trick too.
3. Roll up, roll up
There's no need to shell out for cropped trousers when you can create your own ankle-skimmers with minimal effort.
Roll your trouser legs up a couple of inches and slip on some sandals to create a super-cheap summer look.
Why stop at flashing a bit of lower leg? Push up your shirt sleeves to show your forearms too.
4. Ear's a good one
When it comes to summer jewellery trends it's all about mismatched earrings. Time to resurrect those sad singles you couldn't bear to throw out. Experiment with different combinations and try sporting some new duos.
If you want a strong look for a night out, wear your boldest dangly number in one ear and a discreet stud in the other.
But try to coordinate colours or styles – otherwise it could just look like you got dressed in the dark.
5. Show off your shoulders
Shoulders are still in this season, apparently. Which is lucky, since we've all got them.
Show yours off by chopping holes or slits in an old top, or cutting in a wide neck that showcases one or both shoulders. (A word of warning: trimming techniques can take time to perfect. Find some sharp fabric scissors and try them out on a less loved t-shirt first before letting your creativity loose on an old favourite.)
Or if that all sounds a bit draughty, why not go the other way and add shoulder pads to a roomy jacket for that eighties power suit look?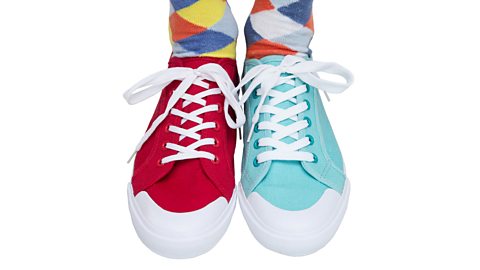 Fashion retailers have started selling shoes in two packs to mix and match colours.
6. DIY paint job
As any A level art student who's ruined their parents' carpet knows, acrylic paints dry like plastic. So they're perfect for permanently redecorating your clothes.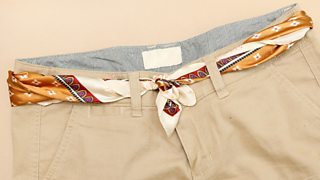 Go bold and paint your favourite phrase in big, colourful lettering on a plain t-shirt. (Don't forget to put paper in between the back and the front so that the wet paint doesn't seep through.)
Not a natural calligrapher? Then take the Jackson Pollock approach and throw on splashes of colour for a chaotic but classic effect.
7. Get your gown on
This may sound like a ruse cooked up by a canny fashion writer who works from home in their nightwear, but… dressing gowns are on-trend right now.
Not that cream toweling one you last wore when you had 'flu – we're talking silky fabrics, bold colours and chic floral designs.
So if there's a classy bathrobe on the back of your bedroom door, give it a wash and wear it as a smart wrap for a night out. Just don't forget to change out of your pyjamas first.
8. Mix and match
With some simple sewing skills you can jazz up a cardigan with buttons or badges cropped from garments you no longer wear.
If you've got the time, go one step further and swap your shirt pockets, sew patterned patches on your jeans, or glam up a vest top with lacey trimming from an old nightie.
Or if your shoes could do with a revamp, why not make them look a bit less pedestrian by switching in some coloured laces? Or just be confident and step out in a mix and match pair and see if anyone notices.
9. Stand tall
This last tip might sound like a cop-out, but in fact it's crucial: wear your outfit with pride. An air of sartorial self-assurance can make you look like a fully paid up fashionista, no matter what you wear.
So stride forth and flaunt your thrifty threads as if you're worth a million dollars.