Main content
BBC Concert Orchestra
The mission of the BBC Concert Orchestra is to bring inspiring musical experiences to everyone, everywhere, with the ensemble's great versatility as the key.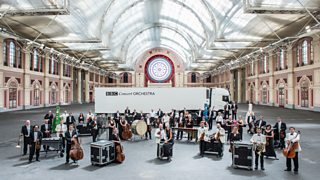 The orchestra can be heard regularly on BBC Radio 2's Friday Night Is Music Night, and for BBC Radio 3 it searches out the unusual and quirky, profiling classical masterpieces in an entertaining way. For TV, the orchestra has performed on the soundtracks of The Hunt, The Paradise and Jonathan Strange & Mr Norrell, among others, and on the big screen it can be heard in the film The Lady in the Van.
This year our BBC Proms performances at the Royal Albert Hall included a celebration of John Williams's extraordinary achievements to mark his 85th birthday and a centenary tribute to Ella Fitzgerald and Dizzy Gillespie. We also featured in the party that is Proms in the Park, featuring a host of musical stars in the Last Night of the Proms open-air concert.
As an Associate Orchestra at the Southbank Centre, the BBC Concert Orchestra's highlights this season include a dramatic evening of music from the Film Noir greats, the musical revue Sondheim on Sondheim, an evening of glitz, glamour and charm celebrating the 100th birthday of Alan J Lerner and we return to the Queen Elizabeth Hall performing music by David Bedford.
Along with its regular engagements throughout the UK, the BBC Concert Orchestra has toured internationally to China, Japan, Sweden, Abu Dhabi and coast to coast in the USA.
The BBC Concert Orchestra has produced 'Singing for the Brain' sessions with the Alzheimer's Society and last year brought BBC Music's Ten Pieces initiative to secondary school children in Birmingham and Bristol. It also performed at the second BBC Music Awards and appeared as the 'impossible orchestra' alongside 27 star performers in the film and CD release of God Only Knows.