Main content
Why are Staffies still considered aggressive or dangerous dogs?
Staffordshire Bull Terriers are often thought of as dangerous dogs, but one animal charity is on a mission to change the public's perception.
The Scottish SPCA says Staffies are one of the most affectionate and loveable breeds out there — and they've got quite a few of them waiting in their shelters to find a new home.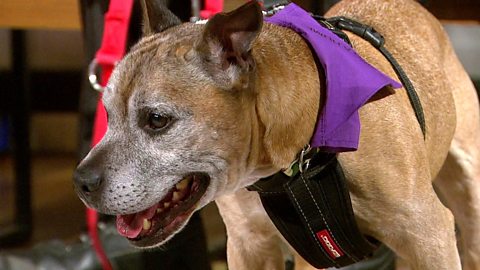 George the Staffordshire Bull Terrier is looking for a new home.
Why have they got such a bad reputation?
The Staffordshire Bull Terrier was recognised as a breed by the Kennel Club in 1935. Although the roots of the breed are associated with fighting and the baiting of larger animals, their reputation as a vicious and aggressive breed preceded them. Nowadays, the animals no longer display this kind of aggression.

David Grant from the Scottish SPCA says, "People saw them as a status symbol breed. They wanted them for the wrong reason: to look tough when they were out with the dog.
They really are not like that, because they don't act tough — they love people.

David Grant, SSPCA
"So when you want to act macho with a dog, the Staffie's not really the dog for you. When they see people coming, they want to go and say hello!"
The Scottish SPCA and other agencies think the reason so many Staffies have begun appearing in dog homes is that owners who bought them for 'macho' reasons discovered their lack of suitability as tough dogs and abandoned them.
Latest features from BBC Scotland
Experts advise how to get your future in order.

An Inverness garden is blooming lovely.

Worry about the future is on the rise.

Beechgrove's Lizzie Schofield demonstrates her simple method.

Experts share their advice for cutting costs.

Food scientist Dr Stuart Farrimond reveals the answer.

The Scots star on preparing for his new role.

Diana Yates shares her kinder approach to bugs.

Prevent food and financial waste by filling the freezer.

The 'stigma' of debt is preventing people from asking for help.

Psychotherapist Anna Mathus on dealing with outbursts.