Main content
Meeting Music's Nostradamus
For Radio 4 documentary The Pop Star and the Prophet, musician Sam York set out to meet Jacques Attali, an unorthodox French political theorist who predicted the decline of the music industry decades before it occurred. This is what he learned.
As a musician, I'd like to assure you that the crisis in the music industry is real. Behind all the anonymous statistics about declining album sales, and the pitiful incomes reported from streaming platforms, rank-and-file musicians are struggling to survive. Almost every musician I know has secretly confessed thoughts of jacking it in, finding some other income, because the future seems so hopeless. Many of those I've spoken to are the 'lucky ones' who have gigs, audiences and recording contracts.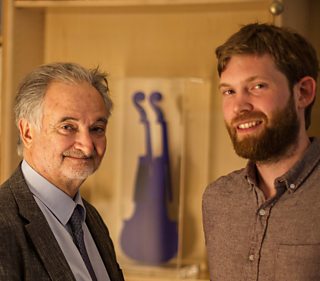 Sam York (right) with Jacques Attali
He told me about the intimate relationship between music and power"
It's still unclear whether the the music industry is going through a prolonged transitional phase, soon to reach a glorious new equilibrium, or whether it has been permanently withered by events of the last decade and a half. It's easy to find proponents of both views.
Throughout the turbulence of the last 15 years, the ideas of an unorthodox French thinker have helped me to make sense of these changes. Writing almost 40 years ago, as a political theorist far removed from the world of music, Jacques Attali claimed that the music industry was headed on a path towards self destruction. He foresaw a time when the vast number of recordings available would make charging for music impossible. He believed the record business would destroy itself through an excessive reproduction of recordings - like a cancer that destroys its host through an excess of cells. But it wasn't all bad - he saw this as a new opportunity for musicians and listeners to reclaim music as a shared experience, free from the corrupting influence of money.
Importantly, he saw music as a pioneering cultural phenomenon - at the cutting edge of human societal development and a powerful economic and political harbinger. All of the major economic developments in human history, he believed, happened first in music. He claimed that the ways in which we created, consumed and shared music could show us where we were all headed.
I was fascinated by his ideas and what they might mean for me, as a musician, so I went to meet him. Standing on a rainy but elegant Parisian boulevard, hearing a thin voice crackle through an ancient intercom system, he invited me in.
I was extremely nervous about meeting Jacques Attali. No one in the music industry had seen this crisis coming, but he had - decades in advance. It felt like I was meeting music's Nostradamus. Although, this was probably the least of his achievements. As well as authoring over 60 books on a vast array of subjects, he had advised French President Francois Mitterrand for over a decade, organised a G7 summit and become first president of the European Bank of Reconstruction and Development. No slouch, then.
Here I was, a singer-songwriter, trying to find out if I could make a living.
We sat on a couch in his exquisite library. On the walls hung a large collection of tribal masks and weaponry - the room seemed to betray a fascination with ancient cultural history. His friendly ginger tomcat joined our conversation.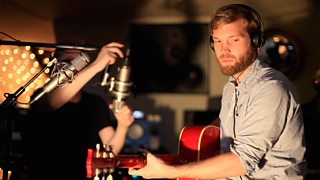 He spoke almost inaudibly. Very calmly, with great generosity and warmth. He is now 71.
He explained how this book he'd written in 1976 - Noise: The Political Economy of Music, which predicted the demise of the music industry due to what he called the "crisis of proliferation" - had seemed to come from nowhere. Yet these ideas he had laid out in this early work more or less defined the rest of his career - it contained the seeds of all of his later thinking. Even he had been shocked by the prescience of the ideas it contained.
He told me about the intimate relationship between music and power - how music revealed the inner workings of a society, and laid bare the struggles between authority and individual freedom.
He explained how his predictions for the music industry were only beginning to manifest themselves in the wider economy - how technologies like 3D printing were likely to transform mass-produced consumerism, just as the humble mp3 had revolutionised the music business. He told me the object would "wither and die", and that we were facing a generalised crisis of proliferation.
He explained his theory that the vibrancy of African musical culture could predict its economic dominance in the century to come, whereas the cultural weakness of China showed it was unlikely to exercise a truly dominant role in future global politics.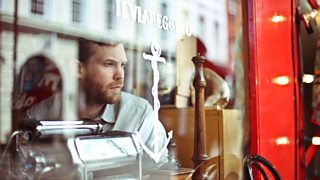 Was he pessimistic about the future for music? In short, no - but he saw a treacherous road ahead.
Attali told me that the solutions we carve out to the crisis in the music industry could define our societies for decades to come. In particular, he saw a danger that the music industry could usher in unacceptably invasive level of surveillance. "It could open the door to dictatorship," he told me. Again, as with music, so goes the rest.
I returned to London with a powerful counterexample to the advice "never meet your heros". Attali was gracious, generous and full of new ideas. Yet, I left with as many unanswered questions as I arrived with.
The ideas contained in Noise have shaped my approach to music, and have illuminated recent transformations more powerfully than anything else I have come across. Attali is still producing unexpected ideas, but I wonder if his most radical work is behind him. All the same, his writing deserves a far wider readership in the English-speaking world - musicians and record executives could do with familiarising themselves with what he's been saying for the last 40 years, therein they might find answers to many of the most ponderous questions we are facing. And a few sober warnings.
Video game evolution: telling stories and stirring emotions in a uniquely interactive way.

Jameela explains why her revelatory journey through sexual politics is a "must listen".

Featuring salamanders that can regrow limbs, cyborgs, and pigeon whistles.

Illuminated snails dancing, sculpted ash trees and music playing for 1000 years.

Link the pithy remark to the artist and be the maestro of the music journo quiz.

Do you know your dermabrasion from your exfoliation? Take this beautiful quiz to find out.

Bridgitte Tetteh writes about an issue affecting single black women.

Artist Roger Hiorns has always been fascinated by the idea of burying planes.

Jonathan Izard explains how a car accident on New Year's Eve changed his life.

View pieces created in the American military detention centre.

These amazing coincidences were shared by our social media followers.

Rhianna Dhillon recommends a podcast that may point the way to a cure for a form of the disease.

Think you know your Suffragettes from your Suffragists? Take this quiz to find out!

These remarkable women have made a real an impact on democracy in their countries.

What is the leftist movement that has been making headlines?

Viv Groskop gathers some of the best Soviet satire and proletariat punchlines.

What Brian Kernohan learnt about himself and our relationship to wigs.

Could we really live by our lives by the words of a slogan? Possibly not...

The poet and broadcaster ponders his need to make the clock bend to his will.

A guide to who counterfeits wine and how the Wine Detectives catch them.

Once forgotten, the author is now revered by Alice Walker and Solange Knowles.

From Tom Jones to Adrian Mole, have a look at lust in literature.

The Hollywood star has experienced the highs and lows of what fame has to offer.

The journalist looks into a new strain of viral advertising.

Phyllis Bottome is little known today, but did she inspire Ian Fleming?

DJ and presenter Bobby Friction on how to escape the online echo chamber.

A travel guide like no other, for black motorists in the mid-20th Century it was a catalogue of refuge.

A visual journey into the heart of racism in the American deep south.

Bridgitte Tetteh explores attitudes to female bodies in the black community.

If we catch you cheating you will be escorted out of the internet.

Art critic Martin Gayford learns what it's like to be painted by a modern master.

The Sex Pistols visited Yorkshire twice, but what impression did they leave?

Pet Sounds and Blonde on Blonde were both released on 16 May 1966, but which do these lyrics come from?

Ian McMillan watches from the side lines in South London

Jolyon Jenkins investigates whether meditation can do you more harm than good.

The band member recalls the anarchistic joy of a truly unique group.

The team of recovering addicts who made their mark on cinematic history.

David Aaronovitch on how an Eastern political tract became a Western icon.

David Bowie's interviews reveal his humour, passion and determination to succeed.

Did Nazi leader Hermann Goering have a brother who saved innocent lives from the Holocaust?

A selection of great female authors who have radically altered the genre.

Dream away those mid-winter blues by pondering our selection of fantasy idylls.

Mat Fraser meets the former striptease stars back on the stage in their 70s and 80s.

The legendary radio maker recommends seven great documentaries for Seriously...

A poetic retelling of the Orpheus myth, from the celebrated writer Neil Gaiman.

An aspiring singer-songwriter meets the man who predicted the demise of the music industry decades ago.

What have you learned from our documentaries? Try our fiendishly difficult quiz...

Kellie Redmond explores Disney's fascinating contribution to the war effort.

The Simpsons star, satirist and actor reflects on the flood that devastated his home town of New Orleans.

Meet five codebreaking women who helped beat the Nazis and are still alive to tell their tales.

Seven reasons to love the modern melodic drum that creates a haunting tone.

The award-winning writer on porpoise dissections, stranded whales and beached dolphins.