Main content
What will Kanye West do with his 4 minutes at the MTV VMAs?
Organisers of the MTV VMAs have reportedly given Kanye West free reign to do whatever he likes at this weekend's awards show.
That's a pretty brave move. Kanye has never been one to hold back (just look at his recent interview with Annie Mac - and that was just a quick chat on the phone).
So brace yourselves - here's what he's likely do during his 4 minutes on stage. You have been warned.
1. Paint a cow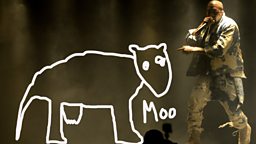 When Kanye chatted with Annie Mac recently, he compared his critics to people saying Michelangelo wasn't a good artist because he hadn't done a nice picture of some cattle.
"It's like telling Michelangelo: 'I know you painted this dope angel, that was really good, but Michelangelo, I don't think you can paint a cow.'"

Kanye West
This performance would be the perfect place to prove those critics so wrong.
Also, we really want to see Kanye paint a cow.
2. Chat about Taylor Swift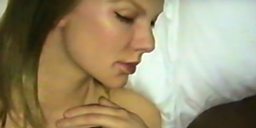 Credit: Kanye West / YouTube
It has been 7 years since Kanye jumped on stage and stole Taylor's thunder at the VMAs and A LOT has happened since. We won't rake through the mud here but these two have serious history.
Perhpas it's time for Kanye to make amends, permanently.
3. Chat about trainers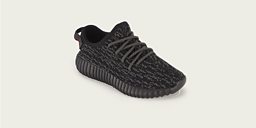 Credit: Kanye West / Adidas
Kanye loves trainers like Kanye loves Kanye. However, he doesn't love all the trainer brands and he has been pretty vocal about it.
Did you not want the Yeezys? Nike would make you believe it was my fault that you couldn't get them, but that was not the case

Kanye
He is known to rant (and rant) at his gigs so why not drop the music completely and just use the 4 minutes to tell us about shoes.
4. Shake up the establishment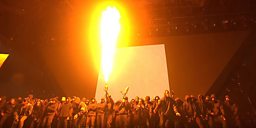 Credit: Kanye West / YouTube
Oh, there's also a good chance Kanye will perform some music. When he appeared at the 2015 Brit Awards, he didn't play nice.
We'd love to embed a video of the performance here but that's just not going to happen.
We lost count on the swears before the end of the first minute so instead, here's a nice picture of the performance.
Kanye kicked off his Life Of Pablo tour this week in the US. It wasn't boring.
He was filmed flying above the audience in Indianapolis, Indiana. We're so ready for something like this.
6. Recite a poem about burgers
One of the biggest talking points of Frank Ocean's new album Blond was Kanye's poem about McDonalds for Frank's magazine, Boys Don't Cry.
He'll be playing songs from The Life Of Pablo on tour for the next few months, so why not drop something fresh for this one-off performance.
The real shocker would, of course, be if Kanye dropped some of his biggest pop hits of his career.
It's easy to forget tunes like 'Power', 'All Falls Down' and 'All Of the Lights' when all anyone talks about is whether he's been out with Kim Kardashian recently.
We demand a mash-up.